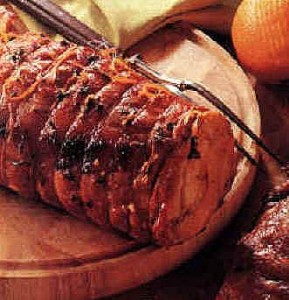 The USDA relaxed its guidelines for the internal temperature of pork. Pork can be pink inside! For those of us who are in medicine, we have known that previous guidelines – an internal temperature of 160 degrees, was way too high. The current guidelines are for 145 degrees with three minutes of rest.
Pork for years was a reservoir of a parasite called Trichinella, and the outside of the animal was colonized with Salmonella. However, for decades pig farmers and meat processing plants have handled the animal to modern standards, and there has not been an outbreak related to pork or its products for years.
Kosher law prohibits the eating of animals  such as pork. No doubt this was an ancient health code, as in those days pigs were infested with the organism.
The best part of this is that pork is best when served medium rare. When pork is over-cooked it is too dry, and loses its flavor and consistency. This is good news for foodies everywhere (of course, most of us have been cooking pork on the rare to medium rare side all along).
My favorite way to prepare pork, a fine pork loin, done with a Tuscan rub in the Sous Vide for three hours.  See my recipe, below:
Rub the pork tenderloin with equal parts:
salt
pepper
paprika
brown sugar

then 1/2 parts dry mustard
and 1/2 part Cayenne
Seal the pork tenderloin in a bag and cook at 140 degrees for 3-5 hours. Get your grill super hot. Remove the tenderloin from the bag and pat it as dry as you can get it. Sear the tenderloin at 90 seconds to 2 minutes per side.
This recipe, plus more at terrysimpson.com

About Dr. Terry Simpson
Dr. Terry Simpson received his undergraduate and graduate degrees from the University of Chicago where he spent several years in the Kovler Viral Oncology laboratories doing genetic engineering. He found he liked people more than petri dishes, and received his MD. Dr. Simpson, a renowned weight loss surgeon, is a leading advocate of culinary medicine. A frequent contributor to media outlets discussing health related topics and advances in medicine, he is also a proud dad, husband, author, cook, and surgeon "in that order." For media inquiries, please visit www.terrysimpson.com.