Why SunScreen Is Important
It was over ten years ago when I was asked to operate on a 26 year old, newly married man. His spleen was severely enlarged. It was filled with skin cancer – malignant melanoma. He spent the next four years in and out of treatment, and thankfully has been free of the deadly cancer since then.
It is a lot easier to prevent cancer than it is to cure it. Witness this by the efforts going into the various treatments to prevent the deadliest form of skin cancer, melanoma. But finally the USDA put out rules for sunscreens – did I say finally? For too long the sunscreen manufacturers have not been forthright with the public.
Sunscreen can protect against sunburn, or it can protect against cancer. Sadly, this has not been on the labels available on most of the sunscreens. Many consumers have falsely felt protected against the cancer causing rays of the sun, but have not been. The rapid rise in skin cancer diagnosis in the US may be from people assuming they have had protection against the cancer-causing rays of the sun.
In Arizona, almost 1500 new cases of melanoma are diagnosed a year. Melanoma is the most deadly of skin cancers, called "black death," because of its appearance not only on skin, but sometimes when it is spread in the internal organs. Of all the skin cancer deaths, melanoma is responsible for 75% of them. Living in Arizona raises the risk of skin cancer – lots of sunny days, and those invisible rays of sunshine causing severe reactions.
Certain people are more at risk for melanoma than others – but even using sunscreen with SPF rating of 30 prevents melanoma. When tested in mice that are bred to be genetically prone to melanoma – the use of SPF 30 reduced risk of melanoma and tumors. It is more than just blocking the sun – more than just avoiding a burn. It may be the ambient sun we get daily can induce carcinoma in some people.
Beware of Top Rated Sunscreens:
Just because it is top rated in Amazon, does not mean it meets the criteria for sunscreen by skin doctors.  Almost half the sunscreens that are top rated in Amazon wash off easily.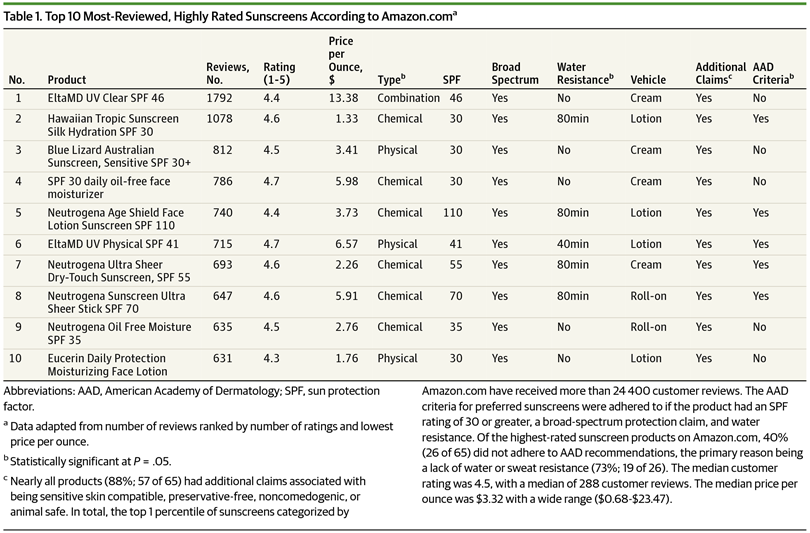 The two types of UV light are simply labeled "A" and "B." The cancer-causing UVA rays penetrate deep into skin cells, and are not blocked by window glass, or most clothing. Protecting against UVA rays is the simplest way to prevent a cancer – and yet most sunscreens, until next year, only protect against UVB rays—which mean you may not get sunburn, but your skin is still exposed to the UVA rays that can cause cancer.
In addition the agency will not allow terms such as "sunblock" or "waterproof" or "sweatproof" – as those are inaccurate. The new regulations will allow the manufacturers to state there is some water-resistance and how long that will last (usually 40 to 80 minutes). Products that are not resistant will be required to carry a warning.
What do you need to protect yourself? Choose a sunscreen with an SPF of 30, at the minimum, even higher SPF is better.  You will need an ounce of sunscreen to cover your body, about three tablespoons or one shot glass.  If you are going to be outside for a while, you will need considerably more.
Consumer Reports tested and recommended the following products:
Up and Up Sport SPF 30 from Target. No-Ad with Aloe and Vitamin E SPF 45, and Equate Baby SPF 50. Other top picks include Banana Boat Sport SPF 100, Walgreens Sport SFP 50, and Ocean Portion Kids Instant Dry Mist SPF 50.
In addition to sunscreen protective clothing is the key to limiting exposure. Broad brim hats, protective clothing (some clothing is designed to block sun rays more effectively such.
Re apply sunscreen every two hours and after being in water or sweating.
Do not pay too much—some of the products advertised by Consumer Reports cost less and score better than the more expensive products. Remember, every two hours you will re apply about three tablespoons of sunscreen.
Finally- watch the kids. The majority of deadly sun exposure happens before the age of 17 years old. Lather up the kids with sunscreen, and keep re-applying it. Do not spend too much time in the sun – take frequent breaks inside.
Get clothes that are labeled to protect against sun damage.

About Dr. Terry Simpson
Dr. Terry Simpson received his undergraduate and graduate degrees from the University of Chicago where he spent several years in the Kovler Viral Oncology laboratories doing genetic engineering. He found he liked people more than petri dishes, and went to medical school. Dr. Simpson, a weight loss surgeon is an advocate of culinary medicine. The first surgeon to become certified in Culinary Medicine, he believes teaching people to improve their health through their food and in their kitchen. On the other side of the world, he has been a leading advocate of changing health care to make it more "relationship based," and his efforts awarded his team the Malcolm Baldrige award for healthcare in 2011 for the NUKA system of care in Alaska and in 2013 Dr Simpson won the National Indian Health Board Area Impact Award. A frequent contributor to media outlets discussing health related topics and advances in medicine, he is also a proud dad, husband, author, cook, and surgeon "in that order." For media inquiries, please visit www.terrysimpson.com.
Share this article on social media!