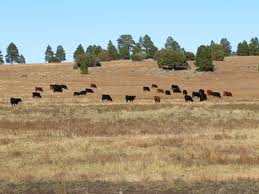 Vegans have lost their moral high ground to the foodies. For those vegans who say they are opposed to animal cruelty as a rational to live the whole plant lifestyle, they have missed out on the market  of raising animals in an eco-friendly and caring manner. Don't tell me that you regularly protest against foie gras (yawn) because you love these ducks – lets just be honest, that is just lazy. And do not humanize the animal. To quote Simon Mujumdar "Anyone who uses phrase 'inhumane treatment of birds' is by definition a cretin."
So, if you are a vegan because you are opposed to animal cruelty here is the catch: by eating vegetables you are not supporting the ranches and farms that are working hard trying to make a living treating animals fairly.  But foodies didn't miss that, and foodies are the ones that pointed out such places, as Michael Pollen did with  Polyface Farms,  or Thomas Keller with Pure Bred Lamb, and in Arizona there is Aschbacher Acres as well as  Aravaipa's Painted Cave Cattle Company – all of whom raise the animals in an eco-friendly manner. Foodies are bringing the message that food can be managed in a sustainable manner, earth friendly, without being cruel to animals.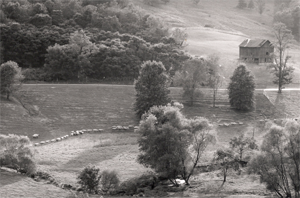 Vegans missed the chance to truly impact the market and meat eaters choices.Yes, it is a market economy out there- and if you just eat plants, you have opted out of the animal market in a very lazy way. Imagine if instead you supported those who raise cattle on ranches, or those whose chickens roam freely (not in a cage) – whose market do you think you would impact the most? Those who enjoy meat are not in favor of cruelty, imagine if instead of wanting to get rid of all carnivores you spent your efforts educating them about the places that raise animals well, treat them well, and provide an ecologically friendly environment. Vegans have for years held the moral high ground, pointing out animal cruelty, but by opting out of the system entirely have lost their voice.
It is a lot more work and trouble to find those places, then to personally inspect them, and when you find those that raise the animals to freely range, to support them by buying from them.  Foodies delight in finding the next great sustainable farm, with grain fed cattle, and true free-range chicken. Your market force isn't as effective if you opt out of that market and tell the world how you are doing something by shopping for vegetables. Do you raise your own vegetables – great, hope you do it in an eco-friendly manner, or purchase from those who do.
To quote foodie Alton Brown, "Animals don't have rights, but we have an obligation to care for them" – and by avoiding that whole small farm market and eating plants, vegans opt out of that obligation, and are not supporting those who are raising the animals in a manner that gives them a longer life, a healthier life. You may never want to eat meat, but chances are you are not going to change the mind of those of us who do – but you can impact it in a positive manner. But vegans missed the opportunity, and in missing have been relegated to a fringe.
Its Mother Earth
Earth is an ecosystem, and the best system is to keep a balance. The big cattle feed lots are not a balance, but neither is the large soy bean production.  Foodies don't support those feedlots, but  foodies were the first to support farms that raise animals as a part of an ecosystem.  Foodies understand that a sustainable ecosystem involves animals – not just plants.  If vegans are worried about the ethics of eating meat because of what happens to mother-earth then they haven't learned what foodies have: it is more ethical to have an ecosystem that is built with animals in it. In any proper eco system there is a balance and  if you do not eat those animals then  their lives will be shorter, and more cruel than those raised in a pasture system. That is sustainable – using oil-based fertilizer for raising plants is not sustainable.
Foodies were the first to point out how salmon are a part of the ecosystem also. Wild salmon,  90% of salmon sold in the US are from fish farms) is another example of supporting the eco-system.  We need farm raised salmon as a part of the sustainable planet, it is what we need to feed a hungry world. While I enjoy catching salmon, it is a part of an ecological cycle, and the salmon that are caught have a less cruel death than going up a stream to spawn and die. Finding wild salmon isn't always easy (even if you are fishing for them), but the taste is worth it. But eating sustainable farm-raised salmon provides a lot of health benefits – high omega-3 fatty acids (humans need omega-3 fatty acids and salmon are a great source). Salmon – farmed or wild, healthy, delicious and sustainable.
From Arizona to Mongolia, pastures provide a part of the ecology that provide a balance to a delicate ecosystem. Without the cattle, the grass would grow too much. The cattle graze on the grass, allowing it to not overgrow. The chickens pick out the insects from the cattle dung, and help replace nitrogen in the soil. If the cattle are not harvested by humans they would be hunted down by the coyotes, or starve from over population. Man is a part of the balance of some great ecosystems. But instead you would over populate the world with vegetables, thinking this will reduce greenhouse gases, when the production of them requires more of a carbon footprint than a proper ecosystem. Foodies who left the restaurants to see where the food came from, chefs who wanted to have local food – or even those like Thomas Keller who would point out that having lamb raised in another state is worth getting to the table.
Cycle of Life
The death of a creature that might have a conscious is what bothers many.  Foodies don't make ethics simple by dividing the world into plants and animals and only eating plants, because plants have no conscious. Some divide the world that way- it is a simplistic and rather lazy way to do it, and does not alter the deeper depths of philosophy (it is a Jr. High school level of  philosophy).
Foodies learn from aboriginals, whether it be from Alaska Natives still eat seal, whale, reindeer, halibut, and a variety of other creatures, or Lap-Landers who raise and sustain reindeer. For them it is a matter of being a part of the ecosystem called earth. Their sense of morality does not come from Judeo-Christian religions, and many modern aboriginals are simply atheist. But there is still a profound sense of thankfulness to the universe that they were able to sustain, and are themselves a part of something bigger. To recognize the brevity of life, to honor creatures, is simple and yet a far more profound ethic – it is also sustainable.
The Sum of it
Foodies oppose cruelty to animals, and the large business of bringing the animals to feed lots and treating them cruelly. But that means eating food from those farms that treat the animals well, and we are profoundly thankful for their care of the animal, as we are aware that an animal died so that we might eat. Foodies by using their dollars to support those who work hard to raise animals in an eco-friendly manner, are being a part of the solution.
Eat your vegetables-we need to eat more in the United States. But if you care about animals and how they live- then spend your dollars on well sourced creatures..

About Dr. Terry Simpson
Dr. Terry Simpson received his undergraduate and graduate degrees from the University of Chicago where he spent several years in the Kovler Viral Oncology laboratories doing genetic engineering. He found he liked people more than petri dishes, and went to medical school. Dr. Simpson, a weight loss surgeon is an advocate of culinary medicine. The first surgeon to become certified in Culinary Medicine, he believes teaching people to improve their health through their food and in their kitchen. On the other side of the world, he has been a leading advocate of changing health care to make it more "relationship based," and his efforts awarded his team the Malcolm Baldrige award for healthcare in 2011 for the NUKA system of care in Alaska and in 2013 Dr Simpson won the National Indian Health Board Area Impact Award. A frequent contributor to media outlets discussing health related topics and advances in medicine, he is also a proud dad, husband, author, cook, and surgeon "in that order." For media inquiries, please visit www.terrysimpson.com.
Share this article on social media!