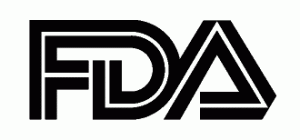 The FDA has recommended two new drugs in the fight against obesity.  What is remarkable is that these are the first drugs the FDA has recommended since 1999, when it introduced Xenical (orlistat ).  Xenical can be purchased over-the-counter as Alli.
Both the new drugs, Belviq and Qsymia are only recommended for people who are overweight with either high blood pressure or diabetes (BMI of 27 or more) or for people who are obese (BMI>30).
Neither drug has been long-term tested for relationship to heart disease, and both drugs will be monitored for heart issues.
Both drugs have modest weight losses – about 5-7 pounds in three months. Some report more weight loss – but again, these drugs are meant to be used with a program of diet and exercise.  Which program, that is always the key question. Neither drug has ever shown the efficacy of weight loss surgery.
Belviq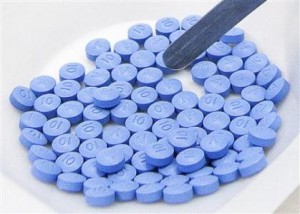 Beliviq (Lorcaserin) works on the neurotransmitter serotonin.  Among the many actions of serotonin are thought to be the the appetite center of the brain that is involved in the feeling of satiety and satisfaction after eating.  In the studies presented patients who were obese lost an average of 5% of their starting weight, or about 12 pounds.
Belviq was rejected by the FDA in 2010 because of concerns about heart problems. A drug with a similar action to Belviq was fenfluramine (a part of the combination Phen-fen that was removed from the market in 1997). That drug was found to have heart issues, especially with heart valves.  Belviq was not found to have these issues in low doses, but the company as agreed to conduct studies once the drug reaches the market to see if in larger groups it has a high incidence of strokes or heart attacks
Because of the effect with serotonin, this drug must be carefully monitored for those who have migraine headaches, or who take drugs that interfere with serotinin, such as some anti-depressive agents, and Zofran – used for post operative nausea.
The main side effect of the drug are headache, dizziness, fatigue, nausea, dry mouth, and constipation.  People who have diabetes may have an additional side effect of low blood sugar in addition to headache, back ache, cough, and fatigue.
Qsymia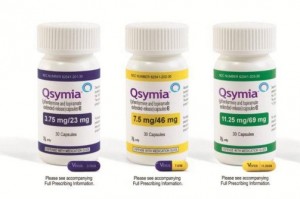 This is a combination drug that includes Phenteramine and Topiramate.  Phenteramine has been used for the treatment of obesity for some time, but the addition of the extended release form of Topiramate was added.
Qsymia is an extended-release combination of two older drugs, phentermine and topiramate. Phentermine is an amphetamine approved for short-term weight loss and topiramate is prescribed to prevent seizures and migraines, and is supposed to make pill-takers feel more full.
Phentermine was one-half of the popular Wyeth drug fenfluramine, or fen-phen, which was tied to heart valve damage and taken off the market in 1997.
The drug's safety and efficacy was reviewed in two studies that showed after a year of taking the drug, patients lost between 7 and 9 percent of their body weight, and between 62 and 69 percent of study participants lost 5 percent of their body weight, compared with 20 percent of patients taking a placebo.
The FDA recommended that people who took Qsymia and didn't lose at least 3 percent of their body weight by 3 months of treatment were not likely to achieve weight loss  and may need a higher dose. Patients don't lose at least 5 percent of their weight after 12 weeks on the higher dose  should stop taking the drug.
One of the main side effects with Qsymia is concentration and memory difficulty including word finding.  It is cautioned that people who operate machinery, fly planes, or people who need to be making instant decisions, like surgeons, should use the drug with caution. The most common side effects include tingling in the hands and feet, dizziness, change in taste, trouble sleeping, constipation, or dry mouth.  In addition the Topiramate component of the drug has been associated with increased risk of suicidal thoughts or behavior.
The drug should not be used in women who are pregnant as there is an increased risk of cleft lip or cleft palat.
Bottom line:
All drugs are used in combination with a lifestyle and diet change. But what are those changes? That is always the key.  To use these drugs alone, without changing what you eat, how much you eat, where you go out to eat, and without learning to cook is like spitting in the wind.

About Dr. Terry Simpson
Dr. Terry Simpson received his undergraduate and graduate degrees from the University of Chicago where he spent several years in the Kovler Viral Oncology laboratories doing genetic engineering. He found he liked people more than petri dishes, and went to medical school. Dr. Simpson, a weight loss surgeon is an advocate of culinary medicine. The first surgeon to become certified in Culinary Medicine, he believes teaching people to improve their health through their food and in their kitchen. On the other side of the world, he has been a leading advocate of changing health care to make it more "relationship based," and his efforts awarded his team the Malcolm Baldrige award for healthcare in 2011 for the NUKA system of care in Alaska and in 2013 Dr Simpson won the National Indian Health Board Area Impact Award. A frequent contributor to media outlets discussing health related topics and advances in medicine, he is also a proud dad, husband, author, cook, and surgeon "in that order." For media inquiries, please visit www.terrysimpson.com.
Share this article on social media!