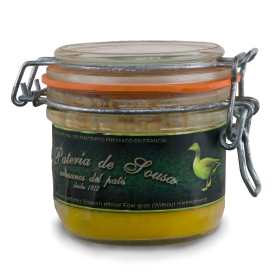 On July 1st California began its version of "prohibition" with Foie Gras as the banned item instead of alcohol. Much like prohibition, restaurants in California are trying to find ways around the law.
The ban was written into law eight years ago with the idea of giving farmers time to find a new way to produce foie gras without "force feeding" the animal.  It turns out there are ways of doing just that, but the California producers elected not to incorporate them into their practice. In spite of some chefs urging a repeal of the ban, it went into effect on July 1st. The ban was brought about by lobbying from animal activists, and no one paid much attention to it until this year. So, for eight years California producers did not learn how to produce foie gras without force feeding the ducks. If only they had looked to Spain, they could have learned how geese are raised, freely roaming, and then by eating the native plants, develop the most delicious foie gras imaginable.
Eduardo Sousa, raises geese as a free-range farmer in the Extremadura region of Spain and refuses "la gavage" (force feeding the animal).
Initially his foie gras was deemed too gray in comparison to the yellow livers of geese raised on force-fed, artificially colored corn. Sousa planted bright orange flowers native to the area around the grounds of his farm and the geese developed the classic yellow foie gras.
Sousa won the prestigious Coup de Coeur for Best Foie Gras from the Paris International Food Salon in 2007, and the French foie gras makers demanded the prize be revoked on the grounds that his product could not truly be called foie gras. They claimed that foie gras is created as a result of forceful overfeeding, and his product was inéligible for consideration. Sousa, noting the upcoming ban on California foie gras stated, "Many countries are going to ban the practice of artificially fattening these birds and the French are afraid of this."
The foie gras ban became an international incident when French President Francois Hollande stated, "Foie gras is a great French product which honors the farmers who devote their lives to it. I will not allow any challenge to foie gras exports, from certain countries or from certain American states." Apparently, France does not want to adopt the methods of Sousa.
Other than a trade war, which France is not interested in, there is little that France can do. President Hollande was making those statements while visiting a Foie Gras plant in the country. Although another French politician, Philippe Martin, said, "I call on all the restaurants in France that sell Californian wine to stop doing so in a show of solidarity for our foie gras makers and, more broadly, for all food makers."
A lawsuit challenging the constitutionality of the ban will have a hearing on August 29th to file for a temporary injunction, as the California producers and some restaurants say they are losing a combined $11,000 a day.
What is a loss of income for some, is a business opportunity for others. The California Foie Gras ban is specific for the sale and production of force fed animals to produce foie gras. The ban does not prohibit consumption and possession. And, one could argue, that if they imported the foie gras from Sousa's farm, it would meet the requirements of the law, and they could sell it. Farmers could adopt the methods of Sousa and be in compliance with the law
Chez TJ's in Mountain View (Silicon Valley) serve foie gras as a free side dish, their interpretation of the law is that they can distribute it, because the law specifically states sale and production. Other restaurants, such as Hot's Kitchen in Los Angeles are doing the same.
In San Francisco at the Presidio Social Club, the owners feel that since their restaurant is on federal land, that the state laws won't apply to them. This is the same legal theory that Indian Reservations have used to enable them to offer gambling on reservations- state laws do not apply to federal land. In fact, some Native American casinos may offer the banned liver in their restaurants.
The Presidio Social Club on Bastille Day, July 11th, held an event where the foie gras was served. While some protestors were outside chanting with the usual posters of ducks being force fed, it didn't stop foodies from filling the restaurant.
Bryan Pease, a public figure and a failed candidate for San Diego city council, sent an email to the restaurant stating that the restaurant was "not a sovereign nation," and that "If i come to your restaurant and kill you -or just break your legs – I would be prosecuted under state law – not federal- because there is no federal law against murder or battery."
Pease denied that he was threatening the restaurant. He did however state that he was considering filing a lawsuit on behalf of restaurants that are obeying the law (although difficult to imagine a restaurant that once served foie gras would join such a lawsuit). Pease previously used voter registration lists to publish the home address of Chef Dan Moody, inviting protestors to his front door. You can read more about that here.
Other restaurants have offered to cook the foie gras for any customers who bring it in. Getting around the ban by not selling the material, just the cooking of it.
Others are forming "Duckeasy" dinners where they charge for tickets to the event, but not for the foie gras served. A $100 ticket at a recent event bought a ten course tasting menu featuring the contraband liver.
As with most prohibitions, enforcement will probably be minimal. For law enforcement, the issue is a delicate (delicacy) one because the budget cuts have made it difficult for them to enforce the law. But it is not the law- it is the ethical issue, foie gras can be made in a manner that does not force feed the animal.
It is sad that foodies are losing moral high ground here.  Foie gras can be produced, it is clear, without force feeding. It is time for the restaurants to know they can legally import and sell this product, and not be in violation of the law, or the spirit of the law.
Foodies should lead the charge- not as civil disobedience, but to eat and demand the best for the animals we eat – like that of Eduardo Sousa.

About Dr. Terry Simpson
Dr. Terry Simpson received his undergraduate and graduate degrees from the University of Chicago where he spent several years in the Kovler Viral Oncology laboratories doing genetic engineering. He found he liked people more than petri dishes, and went to medical school. Dr. Simpson, a weight loss surgeon is an advocate of culinary medicine. The first surgeon to become certified in Culinary Medicine, he believes teaching people to improve their health through their food and in their kitchen. On the other side of the world, he has been a leading advocate of changing health care to make it more "relationship based," and his efforts awarded his team the Malcolm Baldrige award for healthcare in 2011 for the NUKA system of care in Alaska and in 2013 Dr Simpson won the National Indian Health Board Area Impact Award. A frequent contributor to media outlets discussing health related topics and advances in medicine, he is also a proud dad, husband, author, cook, and surgeon "in that order." For media inquiries, please visit www.terrysimpson.com.
Share this article on social media!