Ingredients:
4 Chicken Breasts ( skin on)
Kosher Salt
2 eggs
1/2 cup of bread crumbs
1 Tablespoon Garlic Salt
Spray olive oil
1/2 cup of Chicken broth (alternatively you can use 1/2 cup of white wine – recommend a Montrachat)
Directions:
Preheat the oven to 375 degrees
On a plate put together 1/2 cup of bread crumbs and  the 1 tablespoon of garlic salt.
In a bowel beat the two eggs for an egg wash
Cut the chicken breasts in half and season with Kosher salt
Coat the chickens with the egg wash
Dredge the chicken in the Bread Crumb mix
Place the chicken into an oven-dish and then spray the chicken with olive oil.
Add 1/2 cup of chicken broth (or the white wine)
Bake for 30 minutes at 375 degrees and then remove from the oven and allow it to sit for 5 minutes before serving. The material at the bottom of the oven pan can be used to serve over the vegetables.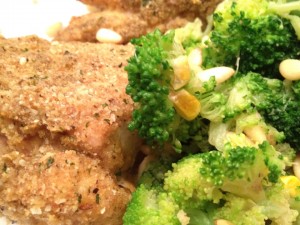 Calories 248, Fat 8.35 g, Protein 31.2 g, Carbohydrate 10 g, Fiber 0.5 g

About Dr. Terry Simpson
Dr. Terry Simpson received his undergraduate and graduate degrees from the University of Chicago where he spent several years in the Kovler Viral Oncology laboratories doing genetic engineering. He found he liked people more than petri dishes, and went to medical school. Dr. Simpson, a weight loss surgeon is an advocate of culinary medicine. The first surgeon to become certified in Culinary Medicine, he believes teaching people to improve their health through their food and in their kitchen. On the other side of the world, he has been a leading advocate of changing health care to make it more "relationship based," and his efforts awarded his team the Malcolm Baldrige award for healthcare in 2011 for the NUKA system of care in Alaska and in 2013 Dr Simpson won the National Indian Health Board Area Impact Award. A frequent contributor to media outlets discussing health related topics and advances in medicine, he is also a proud dad, husband, author, cook, and surgeon "in that order." For media inquiries, please visit www.terrysimpson.com.
Share this article on social media!