Celebrity Chef Robert Irvine on a Roll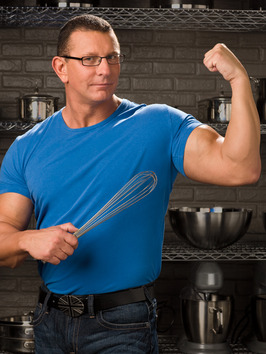 My friend Robert Irvine wondered what kind of sandwich would remind us of him? So- heading to the kitchen we came up with something that reminds us of Robert. Since he is a Brit, the first thing that came to mind was fish and chips – but putting it into a sandwich. Robert is a bit cheeky, and there is nothing better than good Alaskan Halibut for the fish- so halibut cheeks were the answer.
Brits, and Robert, love their beer – so a beer batter, but a bit less traditional than most. For this recipe we used an oatmeal stout.
Traditional tartar sauce might be a bit much, so instead we modified a cold slaw recipe to act as a texture and flavor element. This has less calories, and provides some healthy vegetables for the food.  We put this all together- and came up with the "Robert Irvine Sandwich" – like him, it is healthy, muscular, cheeky, British.
 Beer-Batter Halibut Sandwich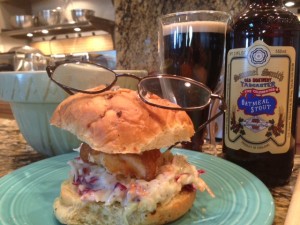 First the Cold Slaw:  This is a version of an Eastern Northern Carolina Cold Slaw that is used with pulled pork. We modified it a bit to go with halibut and to take the flavor and texture that tartar sauce provides, but with a healthier spin.
1 head of cabbage – grated
2 carrots – grated
1 radicchio grated
Mix the vegetables together
The dressing:
1.5 cups of low-fat Mayo
1/3 cup of sugar
1 Tablespoon celery seeds
1 Tablespoon white vinegar
-mix together- and then add salt and pepper to taste. Mix with the vegetables and then put in the refrigerator.
Health Note: Some have used low-fat yogurt or yogurt instead of Mayo, but you lose the mouth feel of the slaw. Low-fat mayo works better, saving over 700 calories!
Beer Batter:
1 cup of a healthy oatmeal Stout (British of course)
1 cup of all purpose flour
1 1/2 T of baking powder
1/2 teaspoon of Cayenne pepper
1 Tablespoon of Old Bay Seasoning
This presents a thick batter, which is my preference for using in a deep-fat fryer. If you are going to fry this in a fry pan then you will need to thin the batter by using more beer.
Halibut Cheeks
You can also use the fillet of halibut, or even cod for this. I like the cheeks because they are meaty like Robert.
If you use a fillet, remove the skin from the halibut or cod.
Rinse and pat them dry.
Dredge them in flour or corn starch.
Apply the batter. If you use thicker, like I prefer, you can almost coat them like frosting, on three of the four sides. The side you put into the basket you leave "naked." If you use a frying pan and use a thinner batter then you coat them on all sides.
Deep Fat Fryer to 375 degrees F. I use Peanut oil in the frier. If I use a fry pan then I use grape seed oil (Robert's favorite).  Carefully place them in.
Remove in 2-3 minutes when they are golden crisp and let them sit in the basket and drain the oil.
Assemble:
use a great bread – I like a fine French roll.
Slaw, Halibut, Parmesan cheese, and more slaw.
Eat: it's a mouthful — ummm (ok, I won't say it but you know what I would say)

About Dr. Terry Simpson
Dr. Terry Simpson received his undergraduate and graduate degrees from the University of Chicago where he spent several years in the Kovler Viral Oncology laboratories doing genetic engineering. He found he liked people more than petri dishes, and went to medical school. Dr. Simpson, a weight loss surgeon is an advocate of culinary medicine. The first surgeon to become certified in Culinary Medicine, he believes teaching people to improve their health through their food and in their kitchen. On the other side of the world, he has been a leading advocate of changing health care to make it more "relationship based," and his efforts awarded his team the Malcolm Baldrige award for healthcare in 2011 for the NUKA system of care in Alaska and in 2013 Dr Simpson won the National Indian Health Board Area Impact Award. A frequent contributor to media outlets discussing health related topics and advances in medicine, he is also a proud dad, husband, author, cook, and surgeon "in that order." For media inquiries, please visit www.terrysimpson.com.
Share this article on social media!