Growing up in Alaska, Ham was one of my favorite dishes. It was served at all the "Sons of Norway" functions, as well as the traditional Easter and Christmas dish. Here are a few keys from a lot of years of making a lot of ham – and you are what you eat.
Holidays mean ham  – or sometimes lamb – but for ham lovers, here are a few tips from years of experience:
You will see some new types of hams at most grocery stores. Don't be afraid of them. Find a nice high quality ham.  If your grocery store doesn't carry some good ones consider one of the specialty grocery stores, in Phoenix we go to A.J.'s.   But even Costco has brought out some great high quality hams to choose from. No ham in a can – we call it spam.
There are three varieties of hams: city hams, country hams, and fresh hams.
City Hams
These are the most common in grocery stores. They have been typically soaked in a brine before being cooked.  Some of these hams have been smoked, some of them have been boiled.   Smoked ones have a smoky flavor with less salt, while boiled hams have a milder and more salty taste.
Country-Cured Hams
These hams have been fed fruits, hazelnuts, and some meats – this gives them far richer, savory taste. The hams are cured in a barn, where they are packed in salt, smoked, and then aged. The aging is like beef, it decreases the water content while increasing the flavor.
Fresh Ham
More of these have been showing up at the grocery store. Since they are not cooked, they will require more prep. Some people prefer these, thinking they have more flavor and you can do more with their cooking.
How Much Ham to Buy?
1 pound per person. There will be more than enough ham for everyone, but what you want is that great sandwich the next day
Bone in or Bone out?
Bone in – always. The bone provides a great flavor for the ham. It also is in the deepest part, and allows you to precisely measure the temperature.
Baking the Ham
Depending on which type of ham you purchase will depend on how long you need to cook it. This is where it is essential to have a good meat thermometer. You want to have a temperature of the interior at 145 degrees – NO MORE. Place the temperature probe near the deepest part of the ham  by the bone.
Keeping it Moist
Some like to baste the ham, some like to put a glaze on it. Some companies provide a glaze for their ham (I prefer the recipe below).  The key is keeping the temperature below the old 160-165 range. You do not need to baste, but one way to keep it moist is to have 1/2-1 cup of liquid at the base. I prefer a nice white wine, some use just water. If you use chicken broth, dilute it 1/2 with water – most chicken broths are too salty. Cut an apple into 1/4 inch slices and put it underneath the ham- it will impart a nice flavor.
Cut Side Down
The cut side of the ham should sit on the bottom of the pan and in the wine.
Time – don't trust the instructions
Depending on how the ham has been pre-cooked you will see recommendations from 10-40 minutes per pound. Use a meat thermometer, and only go til the internal temperature is 145 – NO MORE. Check the temperature of the ham 45 minutes, 30 minutes, and 15 minutes before the recommended times and don't be afraid to take it out.
Resting the Ham
Once the ham is cooked, take it out of the oven and let it sit on the counter top. We have to guard it from our dog, but it can sit there for 20-30 minutes, and should sit there for at least 15 minutes.
Glazing the ham
Most ham glazes are sweet and sticky. I prefer a simple glaze – here is the recipe:
3/4 cup of Dijon Mustard
1 cup unsweetened apple juice
1/4 cup corn syrup
1/2 cup of brown sugar
Mix together in a sauce pan and heat to a slow simmer.
If you want to glaze the ham- do this as you take the ham out of the oven – put it on the ham, and let it rest.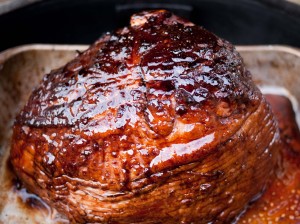 About Dr. Terry Simpson
Dr. Terry Simpson received his undergraduate and graduate degrees from the University of Chicago where he spent several years in the Kovler Viral Oncology laboratories doing genetic engineering. He found he liked people more than petri dishes, and went to medical school. Dr. Simpson, a weight loss surgeon is an advocate of culinary medicine. The first surgeon to become certified in Culinary Medicine, he believes teaching people to improve their health through their food and in their kitchen. On the other side of the world, he has been a leading advocate of changing health care to make it more "relationship based," and his efforts awarded his team the Malcolm Baldrige award for healthcare in 2011 for the NUKA system of care in Alaska and in 2013 Dr Simpson won the National Indian Health Board Area Impact Award. A frequent contributor to media outlets discussing health related topics and advances in medicine, he is also a proud dad, husband, author, cook, and surgeon "in that order." For media inquiries, please visit www.terrysimpson.com.
Share this article on social media!