Avoiding Dry Turkey
Is there anything worse on Thanksgiving, than a dry turkey? To prevent a Thanksgiving turkey disaster, there are lots of cooking methods and tips I recommend:
Basting
Brining
Pop-Up gauge
Deep Fat Frying
Injecting the turkey with solutions
Salting
Sub-cutaneous fillings of butter, ricotta cheese, or other ingredients
Temperature control is the best — don't wait until the turkey is 160 degrees – by then it will be too late.
Best method: once your turkey has an internal temperature of 145 degrees remove it from the oven and LET IT REST on the counter top for at least 20 minutes. An even better method is to butcher the turkey first, so you don't have the large cavity in the turkey to heat.  But- here is a video about temperature and meats:

What about the other modalities?
Basting:
Everyone has their formula- baste with butter, baste with brine, baste with marinade, baste with pan drippings. Basting does nothing to keep the meat moist- all it does is keep the skin moist- and what you want with turkey is not moist skin – you want a nice crisp skin.  So- if you want to bast then you don't want crisp skin.
Brining:
We covered this in the science of brining . It is messy – especially with a large bird, and it does not mean you will have better flavor throughout the bird, nor will it keep it any more moist.
The famous Pop-Up:
Once it is up your turkey is done.  This is not as precise as an instant read thermometer. The thermometer gives you a precise read so that you know when to take the turkey out of the oven.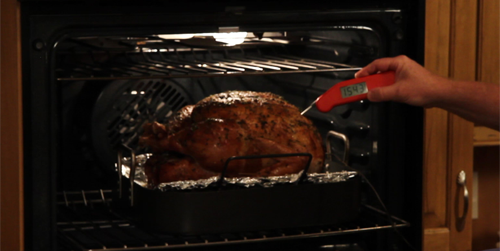 Deep Fat Frying:
If you take the turkey out of the deep fat fryer when the internal temperature is 145 degrees and let it rest – it will be great. Be sure to read all the cautions about deep fat frying- because every Thanksgiving someone loses a house, or trailer. The other name for deep fat frying a turkey is — Sous Vide (yes, it is a sous vide method)
Injecting the Turkey with Solutions:
Whatever your favorite solution is to inject deep into meat won't make a difference in the moisture of the meat. And only has some local stuff. But I have to admit- those injectors look like syringes that we doctors use- and well.
Salting:
Salting is for the skin – it provides an osmotic gradient to help dry the meat a bit so when you cook the bird you have some great crispy skin. If you have never had turkey with a crispy skin – I am so sorry. I prefer salting over brining – it is less messy – nothing worse than a whole bird in a big sack full of brine with salmonella.
Subcutaneous butter, cheese, etc:
Lots of recipes out there using tons of butter, bacon fat, ricotta – with the idea of acting as a barrier to keep the meat moist and bathe it in the juices. It works well for the meat next to the fat – but not for the meat in the middle of the breast, or thighs.
Sous Vide Turkey:
Simply the best way to cook turkey every single time. And here is a quick video to see how it is done. For more info, check out our post on Sous Vide and your Thanksgiving turkey, or watch the 90 second Sous Vide video, or simply watch the video below. And happy cooking!


About Dr. Terry Simpson
Dr. Terry Simpson received his undergraduate and graduate degrees from the University of Chicago where he spent several years in the Kovler Viral Oncology laboratories doing genetic engineering. He found he liked people more than petri dishes, and went to medical school. Dr. Simpson, a weight loss surgeon is an advocate of culinary medicine. The first surgeon to become certified in Culinary Medicine, he believes teaching people to improve their health through their food and in their kitchen. On the other side of the world, he has been a leading advocate of changing health care to make it more "relationship based," and his efforts awarded his team the Malcolm Baldrige award for healthcare in 2011 for the NUKA system of care in Alaska and in 2013 Dr Simpson won the National Indian Health Board Area Impact Award. A frequent contributor to media outlets discussing health related topics and advances in medicine, he is also a proud dad, husband, author, cook, and surgeon "in that order." For media inquiries, please visit www.terrysimpson.com.
Share this article on social media!