So this is your first Thanksgiving to host the dinner- or perhaps you have hosted before but you have stressed every year and while you are busy making last second plans your family is enjoying the Detroit Lions football. Lets make this Thanksgiving stress free and change the one day frenetic activity into a calm, organized machine.
WHAT TO DO TODAY:
Logistics and People:
There is nothing worse than waking up on Thanksgiving realizing that you have enough nice plates for nine people and twelve are coming. Then your cousin tells you that his wife became vegan last year and hoping you have enough Tofu Turkey to go around. Then as you pull out your gravy boat from last year you find it was broken sitting in the back of the cupboard and you have to find one quick.
This is where planning helps:
(a) Make a list of your guests and send an Evite to them and ask if any have allergies to nuts, gluten, or have become vegan, or any food issues.  Knowing this ahead of time saves you a lot of trouble
(b) You know that nice table cloth you use for special occasions- send it to the dry cleaners. Going to wear a dinner jacket- get that one pressed. Have a favorite working apron as well as a "clean" one – get those cleaned also.
(c) Thanksgiving means serving dishes you may not use the rest of the year. Get them out and clean them – they have had a year of dust so getting them clean and putting them in a place where they are easy to get to is better than waiting until the morning of Thanksgiving. It also gives you a chance to see if you want to shop for some new pieces before Thanksgiving.
WHEN YOU KNOW WHO IS COMING:
After three days you should know how many people are coming, and what their food issues are – if any.
Order the Turkey
See my last post about turkeys which is here – but the rule is about one pound of turkey for every guest.  If you have more than 18 guests coming get two ten pound turkeys- they are much easier to deal with.
Ordering turkeys ahead of time means you can make an intelligent choice about the turkey, what it will require in terms of preparation, and what you need to do.
Food Issues
Given food preferences change over the course of the year if someone is now vegan you can emphasize some great vegetable dishes and have them ready for people.  Also know that if you have someone with an allergy then the pots and pans you use for their food should not have any proximity to the allergic item. If you have an oven safe pan and are worried you can always put the pan into the oven and put it on the clean cycle – that will burn away any proteins that cause allergies. Doing this ahead of time- setting the pans aside for the Thanksgiving will mean a lot – maybe save a life. Allergies are not a joke- if someone has an allergy you must take precautions so you can be thankful – and not call 911.
If your guests are bringing something – get specifics or give them specifics. Someone who can cook – great, they can bring a more complex dish. Novice cooks can bring cranberry sauce. Non-cookers can bring wine (and know that if someone brings wine you should prepare for your own stock).
The Drink(s)
Having an open bar where you are mixing drinks is great -but it takes work, and it means someone has to be a bartender. If you have a willing and able bartender that is great- then do that. But it also means stocking up on a lot of booze that you may not use until next year. Instead have a drink for when your guests arrive.  You can choose wine, or beer, or make a festive cocktail – like a pumpkin martini.  Plan this- make sure you have enough glasses for this. Most of these you can make ahead of time (wine is easy).
If you have wine, even if someone is bringing wine, always assume that yours will be better. Stock up ahead of time. If your guest makes a great selection – fine- if not, tell them "oh, you know wine has to sit for a couple weeks when you get it from the store and I have been saving some just for today, but thank you."
If you have a punch bowl to greet them, you will probably want wine with dinner, or some champagne, or other items. Knowing that uncle Ed is recovering from alcoholism means you will need something he will like.  Don't assume sparkling cider is a preference (I hate that stuff) – ask him, its ok – people like to be asked what they prefer if they have an issue with food or drink.
Have enough wine glasses, beer mugs, and set them out- number them, or buy some new ones (plastic is fine).
MENU PLANNING
Turkey is a whole plan for itself and you can see that on the previous post.
Write down every dish that you will make, and get every recipe out. If you need to have the recipe on a card – then print it out. If your favorite recipe is in a book – write it out so you don't have the book open.
My favorite side dishes for Thanksgiving:
Sweet potato Dish (no marshmallows)
Mashed Potatoes
Green Bean casserole
Fresh bread stuffing
Roasted Butternut Squash with Butter and Sage
Macaroni and Cheese (because kids like it and most adults are kids)
MONDAY OR TUESDAY BEFORE THANKSGIVING
Gravy and Turkey Stock
Gravy is science- don't leave this to chance. It starts with drippings from the roasting pan to give that flavor- but, if you are of a mind- you can get this done ahead of time. "Oh please, doc, you can't possibly think I am going to make a turkey gravy ahead of time." Well, you can.
I cook my turkey Sous Vide style, which means there isn't pan roastings of turkey bits and drippings to make gravy. This led to the most obvious solution: I can make turkey stock and gravy ahead of time, and save the hassle on the big day. Here is my quick and easy recipe for this — make this on Monday or Tuesday before thanksgiving – Make ahead turkey gravy and stock . Now if someone is gluten free- we have this recipe.
Gravy and stock can be kept in the refrigerator for seven days maximum.  I toss it out after Saturday.
Cooking Utensils
Every Thanksgiving I find a new toy that is a game-changer for how I cook my meal.  The best one I found so far was cooking the turkey Sous Vide style. I love that method- gives me a perfect turkey, with moist meat every single time. But for those who prefer using their oven, here are a few of my favorite kitchen tools that you should get ahead of time.
One of my favorite places to shop for these is at a store called "Tuesday Morning" where you can get great discounts on overstocked items that they have. Still, I love kitchen and restaurant stores, so if you are of the mind to do some shopping here are a few recommendations:
(1) A roasting pan for the turkey.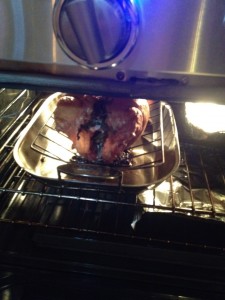 I love my large roasting pan, and use it not only for turkey but for chickens, lamb, and many other dishes that I like to bake. There are all sizes available, at all price points. My mom has had her same roasting pan since she bought it in the 1950's – so this is a dish that you can get that will pay off.
I picked mine up from Williams-Sonoma, it is an All-Clad pan that has some great features. It is heavy duty and has a curved lip so it is easy to pour the contents out of. Mom's is old fashioned, but works quite well. If you are cooking a smaller turkey for must a few people and it can fit into a large skillet or oven-safe pan, that works well also. While you can get the expensive roasting pan, you can also get one for Ten bucks from Ikea – and it looks great, and works well.
(2) Cooking thermometer.
Unless you are cooking Sous Vide with a good water oven (like my polyscience water oven) you need to have a cooking thermometer. There is one reason that turkeys come out dry – and only one reason – because they have been cooked too long. Do not depend on the little tab to pop out and give you an accurate reading of when the turkey is ready – rely only on a thermometer.
Instant read thermometers are the best. You can pull the turkey out- plunge the thermometer into the heart and in four seconds have a read – to decide if it is time to take the turkey out or leave it in for a bit. The other kind is one that will alert you, or your phone, when the temperature reaches a specific point.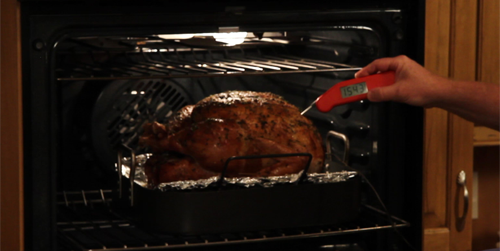 Get one, or both of these devices before you cook your turkey – and you will have the perfect turkey every single time.
(3) Gravy strainer
Some like to have these devices to separate fat from the gravy. With our method of cooking gravy that won't be necessary, but if you find too much fat for your liking use this.
(4) Basting brush
I am not a turkey baster- but some like having a brush, or a turkey baster for this task. If you do- then get one. If not, skip this step
(5) Potato Masher
You will find many devices for this- from the old fashioned one that looks like a fence, to a ricer, to a food mill. You need something. I've had a lot of devices, and now I try to keep things that are simple, easy to use, and reliable. I don't like to clean a lot of parts (food mill). So I prefer either the ricer- because it is fun, but when it comes down to it my potato masher is a simple device that looks like this:
(6) Serving Dishes, Casserole Dishes – all assorted sizes
When you have your menu determined you can decide how many casserole dishes you need, and the size of them. These are very simple – I go with the pyrex ones all the time. They are inexpensive, and no one cares if you have a Thanksgiving Day pattern on them – which also means you can use them all year round. Most of these cost about ten bucks or less per dish.
(7) The Knife
Being a surgeon, I know the value of a sharp scalpel – or knife. Remember the electric knives? You don't need those, you need a good sharp knife for your turkey. If you have a knife you need to either send it out for a sharpening (some kitchen stores have a service where they sharpen knives) or get a knife sharpener and do this before your big day.
This is an important tool- so it is good to get the right one, and when it comes to knives- this surgeon is an expert. Do not skimp here- buy a good knife. My two recommendations are:
Wüsthof Gourmet 12-Inch Roast Beef Slicer Hollow Edge Model Number: 4515 . This will cost you about $119.95 – but it is money well spent. Get one of these, keep it sharp and you will pass it on to your children.
The second knife I recommend is the Victorinox Fibrox 12-Inch Granton Edge Slicing Knife Model Number:47645. This costs less at $59.95 – from Amazon.
THE WEEK OF THANKSGIVING:
Get out all the recipes and make a grocery list.  You want to have everything ready before the big day.
Set aside and wash the dishes.  If you are serving on paper, great -but make sure you have all your dishes out of the back of the pantry and that they are clean and ready to go.
Set your schedule – I like to know how long each item will be cooking, when it will be ready – so I start making a simple diagram for that.
Start any Prep work for potatoes, beans, and salting or brining
DAY BEFORE T-DAY
Set the table – you have it set, you know where people will sit – you know the dishes are ready, and it is one thing you don't have to worry about.
Prep your food: This is when I chop and dice, and get everything ready.
Salt the Turkey: I sous vide the turkey, but the day before I have the turkey butchered into its pieces – legs, breast, thighs and I salt them and place them in the refrigerator.  Some brine turkeys (messy) – and this is the day to do that.
Sample the wine and decant it. The wine I use needs a day to open up so the last thing before I go to bed is open the bottles, decant them and have a sample.
TURKEY DAY
Map out how long it will take for each dish.
The great thing about Sous Vide turkey is this- we can't over cook it- so we have more flexibility
Stay sober – yes, you want to sample the decanted wine, and most chefs cook while drunk, but remember family will be there and you want to leave unsaid all the things that should be left unsaid
 HEALTHY EATING
Forget it- this is one day. Eat whatever you want and enjoy it- and tomorrow you go back to normal eating.

About Dr. Terry Simpson
Dr. Terry Simpson received his undergraduate and graduate degrees from the University of Chicago where he spent several years in the Kovler Viral Oncology laboratories doing genetic engineering. He found he liked people more than petri dishes, and went to medical school. Dr. Simpson, a weight loss surgeon is an advocate of culinary medicine. The first surgeon to become certified in Culinary Medicine, he believes teaching people to improve their health through their food and in their kitchen. On the other side of the world, he has been a leading advocate of changing health care to make it more "relationship based," and his efforts awarded his team the Malcolm Baldrige award for healthcare in 2011 for the NUKA system of care in Alaska and in 2013 Dr Simpson won the National Indian Health Board Area Impact Award. A frequent contributor to media outlets discussing health related topics and advances in medicine, he is also a proud dad, husband, author, cook, and surgeon "in that order." For media inquiries, please visit www.terrysimpson.com.
Share this article on social media!