Whether you are buying a gift for someone who is a novice in the kitchen and you want to help them get on the right track…or you're buying a gift for a serious amateur cook, here are the top five gifts that would be on my holiday list.
The Thermapen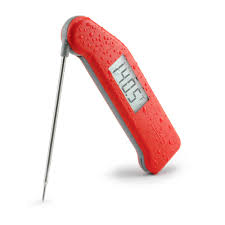 Knowing the temperature of the food is key to good cooking. While many professional chefs will feel the food and tell you if it is rare, medium rare, or well done- this method isn't exact. The key is data – knowing the exact temperature to bring out the food. Can't eat chicken? If you take chicken out at 145 degrees F instead of 160 degrees F you will have moist chicken every time.
The great thing about this thermometer as opposed to others is you get a read in about four seconds, so you can open the oven- get a read and make a decision.
The Kitchen Scale – Scale or Fail
Ok, this is a bit of an old-fashioned scale, and I prefer the newer kitchen scales that can "tare." Meaning you put a plate on them – zero it out, then put your ingredient or food onto it and weigh the food precisely. Didn't finish the food- put the unfinished bit and you will know exactly how much you ate.
Plus, if you are a serious cook, you want to weigh your ingredients- especially if you bake. Weighing is more exact, and leads to more consistent recipes.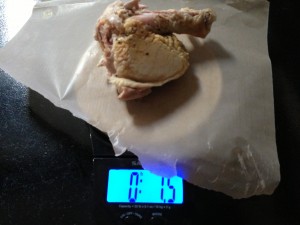 Sous Vide Cooking
If you are a new cook, thinking of starting, and want a sure way to cook without having to over-cook – this is the best method to do it. It saves you time, it saves you money, and your meat will come out at the perfect temperature, you will get the perfect egg, and vegetables will be amazing. Seriously – get this! It is much better than any cooking method out there.
A Chef's Knife
Maybe its because I am a surgeon that I like knives. There are a lot of devices that you can get – but things like the slapchop doesn't help as much as learning a few simple ways to cut things and then using a knife. A knife is easier to clean and keep sharp. When it comes to Chef's knives you can pay anywhere from $12 to thousands of dollars (yes, you can). One great deal we saw was reviewed by America's Test Kitchen – and costs $40 from Amazon.
But sometimes you need more than one- and we like Robert Irvine's knife set – which you can get from either his site or Amazon.
Wine Opener
There are a lot of choices out there- from some of the most fancy ones that you put on a table top to the classic corkscrew that the waiter uses to open the bottle.
This one I have loved for years. It is a cork puller- and should you have a problem with a cork, this little puller will get the cork out without difficulty.

About Dr. Terry Simpson
Dr. Terry Simpson received his undergraduate and graduate degrees from the University of Chicago where he spent several years in the Kovler Viral Oncology laboratories doing genetic engineering. He found he liked people more than petri dishes, and went to medical school. Dr. Simpson, a weight loss surgeon is an advocate of culinary medicine. The first surgeon to become certified in Culinary Medicine, he believes teaching people to improve their health through their food and in their kitchen. On the other side of the world, he has been a leading advocate of changing health care to make it more "relationship based," and his efforts awarded his team the Malcolm Baldrige award for healthcare in 2011 for the NUKA system of care in Alaska and in 2013 Dr Simpson won the National Indian Health Board Area Impact Award. A frequent contributor to media outlets discussing health related topics and advances in medicine, he is also a proud dad, husband, author, cook, and surgeon "in that order." For media inquiries, please visit www.terrysimpson.com.
Share this article on social media!