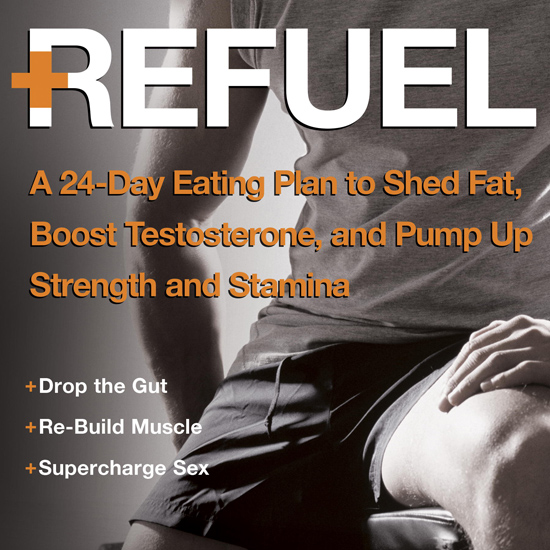 Dr John La Puma, a fellow physician, has written a new book, Refuel: A 24-Day Eating Plan to Shed Fat, Boost Testosterone, and Pump Up Strength and Stamina
I don't like diets – because diets don't change long-term behaviors, but here is his trick: he starts men down a simple path of cooking some healthy meals, and before you know it, you have made those changes. A realistic, easy to implement 24 day program provides a simple schedule to follow that has measurable results.
The book goes through the science of testosterone, how belly fat converts men's testosterone into estrogen – it gives some simple hints as to what men can do- and then the fun part of the book begins: a 24 day program, with simple and delicious recipes, and a way for you to start that program.
For those who don't know Dr. La Puma: he was the first physician to coin the term "culinary medicine." He went to The University of Chicago, and also went to culinary school – while I was working away learning to tie surgical knots he was honing his skills as a chef in one of the finer Chicago restaurants. He wrote the recipes for Dr. Oz's books, and his prescription pads contain recipes – not drugs.  Dr. La Puma and I have a lot in common, and occasionally you will see us tweet one another.
But he is grounded in science.  Too many people take nutrition to a very strange place, but he doesn't – simple recipes, written for those who are omnivores (meaning people who eat a wide variety of foods) – no strange protein only, or plant only program – but a balanced approach to the diet.
So for all those men out there- this is the way to start your New Year. And if you are not a man, but have a man in your life that you are concerned about: father, boyfriend, husband, son, nephew, or just a good friend – who has struggled, but wants something to do for the new year- get this for them. It is simple, and empowering.

About Dr. Terry Simpson
Dr. Terry Simpson received his undergraduate and graduate degrees from the University of Chicago where he spent several years in the Kovler Viral Oncology laboratories doing genetic engineering. He found he liked people more than petri dishes, and went to medical school. Dr. Simpson, a weight loss surgeon is an advocate of culinary medicine. The first surgeon to become certified in Culinary Medicine, he believes teaching people to improve their health through their food and in their kitchen. On the other side of the world, he has been a leading advocate of changing health care to make it more "relationship based," and his efforts awarded his team the Malcolm Baldrige award for healthcare in 2011 for the NUKA system of care in Alaska and in 2013 Dr Simpson won the National Indian Health Board Area Impact Award. A frequent contributor to media outlets discussing health related topics and advances in medicine, he is also a proud dad, husband, author, cook, and surgeon "in that order." For media inquiries, please visit www.terrysimpson.com.
Share this article on social media!