By 2048 There will be no Fishing in the Oceans
In 1883, Thomas Huxley asserted that overfishing or "permanent exhaustion" was impossible and that "all the great sea fisheries are inexhaustible." Even at the time Huxley spoke at the International Fisheries Exhibition, the Atlantic Ocean's halibut fishery was over fished to the point where it has never recovered. Huxley's position that the earth will replenish itself, was based on belief, not the science that he was known for. The population of earth at that time was about 1.5 billion people, today it is over 7 billion.
Man has managed to do what would have been thought to be the unthinkable: threaten fish through over fishing. The Food and Agriculture Organization of the United Nations noted that the number of commercial fisheries that are over fished, depleted or recovering has increased in the last several decades.
Global cod catches have dropped 70% over the last 30 years and the World Wildlife Federation has predicted that cod stocks will be gone within twenty years. Even a moratorium by Canada of cod fishing on the Grand Banks in 1992 did not result in replenishing the cod stocks. The magnificent bluefin tuna, are now both rare and prized for sushi fans, particularly in Japan, where a prized fish will sell for over $500 per ounce. Wild salmon, once abundant in the Atlantic, are listed as endangered under the Endangered Species Act.
It is estimated that the native stocks of all fish species will collapse by 2048. Overfishing is due to poor fisheries management, pirate fishing, destructive fishing practices – such as bycatch where multiple species as well as juvenile fish are caught – and killed, in certain fishing practices.
Turning the Tide
Growing up in Alaska we saw the decline and the rise of the local commercial fishing industry. Alaska is now one of the leaders in commercial fishing. But it didn't happen quickly.  Salmon runs continued to decline in the 1940's in Alaska, some because of foreign fishing fleets that would use large nets that would capture huge schools of salmon, and others because of local commercial fishing that was unregulated. Alaska increased hatcheries for salmon, and began to vigorously enforce the 200 mile claim to their waters. As a result the tide changed and Alaska is known as one of the success stories in sustainable fishing practices.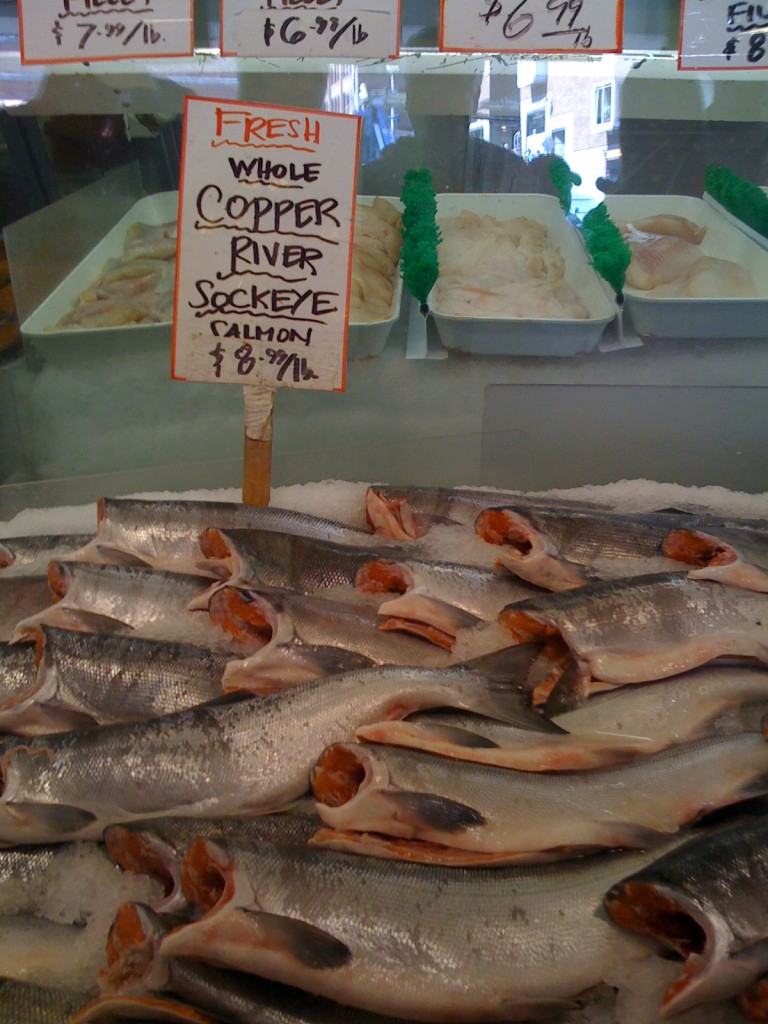 In 1953 the salmon stocks were so low that President Eisenhower declared Alaska a federal disaster area.  The year Alaska became a state, 1959, the state only harvested 25 million salmon.  The Alaska state constitution included a section that the state… "be utilized, developed, and maintained on the sustained yield principle." Alaska became the first state to include sustainability in their constitution. The federal government turned regulation of the commercial fishing over to the state, and the state began a wise stewardship of Alaskan Salmon. In 2013 the state recorded a record 272 million salmon caught.  As a result, Alaska's salmon fishery was the second fishery in the world to receive certification through the Ireland-base Global Trust Certification, which handles international verification on sustainability of natural resources.
The Marine Stewardship Council (MSC) has developed standards for sustainably and traceable wild-caught seafood. In addition there are other companies that care for and maintain certification for local and regional seafood.  Gulf Wild provides individually tagged, traceable and responsibly caught red snapper and grouper from the Gulf of Mexico. This is important as red snapper, a delicious fish, is otherwise endangered species that is on most lists as not to eat. However, responsible restauranteurs make certain that their fish is obtained from certified sustainable sources.
What You Can Do
Responsible restaurateurs and home chefs will support sustainable seafood companies that source environmentally responsible seafood. The Conservation Alliance for Seafood Solutions has enlisted the support of major companies to source great seafood, such as Walmart, Costco, and Whole Foods. Different restaurants have signed on to only obtain and serve seafood that is sustainable and environmentally responsible. Partnerships with the Marine Stewardship Council (MSC) the World Wildlife Fun (WWF) and Sustainable Fisheries Partnership (SFP), Fishwise, Monterey Bay Aquarium, Blue Ocean Institute, Gulf of Main Research Institute, New England Aquarium, Seachoice, and various other organizations are key to supporting those practices that will provide seafood for people in the United States.
Pocket guides and Apps are available to evaluate where you buy your fish and which restaurants participate in sustainable seafood. This is no longer a niche market, but mainstream among restaurants, grocery store chains, and food service companies.
We highly recommend the APP from Seafoodwatch which is free. The app not only includes restaurants nearby where you can purchase sustainable fish, but also includes a Sushi guide with Japanese and Western names of the fish. It will sort food according to those that are "Best Choice" "Good Alternative" and "Avoid."

About Dr. Terry Simpson
Dr. Terry Simpson received his undergraduate and graduate degrees from the University of Chicago where he spent several years in the Kovler Viral Oncology laboratories doing genetic engineering. He found he liked people more than petri dishes, and went to medical school. Dr. Simpson, a weight loss surgeon is an advocate of culinary medicine. The first surgeon to become certified in Culinary Medicine, he believes teaching people to improve their health through their food and in their kitchen. On the other side of the world, he has been a leading advocate of changing health care to make it more "relationship based," and his efforts awarded his team the Malcolm Baldrige award for healthcare in 2011 for the NUKA system of care in Alaska and in 2013 Dr Simpson won the National Indian Health Board Area Impact Award. A frequent contributor to media outlets discussing health related topics and advances in medicine, he is also a proud dad, husband, author, cook, and surgeon "in that order." For media inquiries, please visit www.terrysimpson.com.
Share this article on social media!