It was a routine call to the trauma room, then the second trauma bell went off indicating that the incoming patient was coding. Arriving at the trauma bay, I saw a 23 year old female who was having chest compressions by the paramedics. She had severe trauma to her head from the automobile accident and while we did get her heart started again, a few days later it was clear that she was brain dead, and I had to deliver the news to her parents. We removed life support, and this beautiful young girl, who was out "partying" on a Friday night, and then drove. This woman died a premature and unnecessary death. Her parents were devastated, as would any parent. I wish I could tell you this was the only time this happened in the years that I did trauma surgery, but this was an all-too common occurrence.
A study conducted by the Centers for Disease Control and Prevention found that excessive drinking was the cause of one in 10 deaths among working-age adults between 2006 and 2010. This translates to about 88,000 deaths per year in the United States. In the ten years of Iraq we lost 5000 soldiers, but every year we lose over ten times that amount from abuse.
Anyone who has worked in trauma knows that over ninety percent of the people who come in with trauma to emergency rooms have their injury related to alcohol – whether it is a car accident, shooting, domestic violence, or being hit by an automobile while walking or biking.
What has helped has been rigid enforcement of DUI laws, that decrease the number of alcohol related deaths from driving. But it is more than driving that causes premature death. In fact, every year we lose over 2 and a half million un-lived years.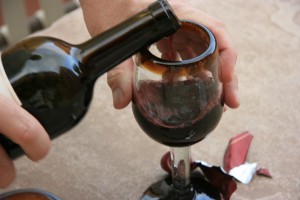 Many think alcoholism, the addiction to alcohol, is the main source of problems. But still alcohol abuse, not addiction, causes dramatic effects on the body. One does not have to be an alcoholic to suffer from liver disease as a result of alcohol, pancreatic disease as a result of alcohol, or brain damage as a result of alcohol.  We define binge drinking as five or more drinks for men and four or more drinks for women.
Not taking your automobile is the first step – but avoiding that extra drink or two is the second. Don't be a statistic.

About Dr. Terry Simpson
Dr. Terry Simpson received his undergraduate and graduate degrees from the University of Chicago where he spent several years in the Kovler Viral Oncology laboratories doing genetic engineering. He found he liked people more than petri dishes, and went to medical school. Dr. Simpson, a weight loss surgeon is an advocate of culinary medicine. The first surgeon to become certified in Culinary Medicine, he believes teaching people to improve their health through their food and in their kitchen. On the other side of the world, he has been a leading advocate of changing health care to make it more "relationship based," and his efforts awarded his team the Malcolm Baldrige award for healthcare in 2011 for the NUKA system of care in Alaska and in 2013 Dr Simpson won the National Indian Health Board Area Impact Award. A frequent contributor to media outlets discussing health related topics and advances in medicine, he is also a proud dad, husband, author, cook, and surgeon "in that order." For media inquiries, please visit www.terrysimpson.com.
Share this article on social media!