Dr. Lee Warren, neurosurgeon and author, interviews Dr. Terry Simpson, discussing why it's important to get into the kitchen and establish a healthy relationship with food, cook for yourself, and take charge of your weight. Dr. Simpson provides healthy lifestyle education, including information on foods, biochemistry, and weight loss.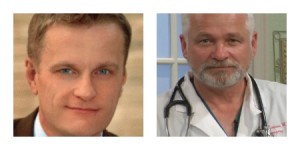 You Start Today Episode 013: Cook or Cut
with Weight Loss Surgeon Dr. Terry Simpson

About Dr. Terry Simpson
Dr. Terry Simpson received his undergraduate and graduate degrees from the University of Chicago where he spent several years in the Kovler Viral Oncology laboratories doing genetic engineering. He found he liked people more than petri dishes, and received his MD. Dr. Simpson, a renowned weight loss surgeon, is a leading advocate of culinary medicine. A frequent contributor to media outlets discussing health related topics and advances in medicine, he is also a proud dad, husband, author, cook, and surgeon "in that order." For media inquiries, please visit www.terrysimpson.com.