Weight loss does not happen in the mail, it does happen in your kitchen.
Did you ever subscribe to one of the many services that puts you on a diet and sells you food that you get in the mail? There are a lot of them, like Medifast, Nutrisystem, and Jenny Craig. All have celebrity endorsements. One of the celebrities that endorses Medifast is actually a Lap-Band patient of mine. He no longer uses their product, but thought it was OK – but what we talked about was how real weight loss doesn't come from the mail, but from the kitchen.
So we have started to collect a number of frozen foods and our job is to make them better. That way you can have the food you like, without having to pay the expensive mail charges, the expensive food costs, and the food will taste better and have a lot fewer "additives."
Ever watch Robert Irvine's Restaurant Impossible? When he goes into a restaurant that is in trouble one of the first things he does is get rid of the frozen food and help the new owners make fresh food, that is made-to-order. Professional chefs can easily tell the difference between fresh and frozen, and so can you – but probably don't know it.
Over the next few weeks we will take foods that are given to us from  you – that you have obtained from Medifast, Nutrisystem, or whomever – and we will make them according to their instructions, and then make our version of that food- as well as post the recipes. We will get some independent taste testers.
Today is turkey chili. This was sent to us by one of our patients – and we couldn't help but think that we could make turkey chili better. So we went to a slow cooking recipe that you can do at home, and have ready. This recipe comes from America's Test Kitchen – and here are the ingredients.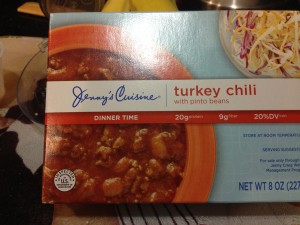 INGREDIENTS
1/4 cup chili powder
1 tablespoon ground cumin
1 teaspoon dried oregano
2 slices hearty white sandwich bread, torn into pieces
1/4 cup soy sauce
6 garlic cloves, minced
Salt and pepper
2 pounds ground turkey
3 tablespoons vegetable oil
3 onions, chopped fine
1 bell pepper, seeded and chopped
1/4 cup tomato paste
2 (16-ounce) cans kidney beans, drained and rinsed
1 (28-ounce) can diced tomatoes, drained
1 (15-ounce) can tomato sauce
1 1/4 cups low-sodium chicken broth
1 tablespoon brown sugar
2 teaspoons minced canned chipotle chiles in adobo
INSTRUCTIONS
1. Heat chili powder, cumin, and oregano in large nonstick skillet over medium heat, stirring frequently, until fragrant, about 1 minute. Set aside.
2. Using potato masher, mash bread, soy sauce, 1 tablespoon toasted spices, half of garlic, and ½ teaspoon pepper in large bowl until smooth. Add ground turkey and gently knead until well combined.
3. Heat 2 tablespoons oil in now-empty skillet over medium heat until shimmering. Cook turkey mixture, breaking up meat into 1-inch pieces with wooden spoon, until no longer pink, about 5 minutes. Transfer to slow-cooker insert. Add onion, bell pepper, and remaining oil to now-empty skillet and cook until softened, 6 to 8 minutes. Stir in remaining toasted spices, tomato paste, and remaining garlic and cook until paste begins to darken, 1 to 2 minutes. Transfer to slow cooker.
4. Stir beans, tomatoes, tomato sauce, broth, brown sugar, and chipotle into slow cooker. Cover and cook on low until turkey is tender, 4 to 6 hours. Season with salt and pepper. Serve. (Chili can be refrigerated in airtight container for 3 days.)
–That is a complicated recipe: there are more out there that are simpler, although I like the flavors in this one.
Compare with the ingredient list for Jenny's Chili:
Now lets look at the nutrition from this:
Calorie Counts- about the same: 225 for a cup
Less sugar, same protein, and similar fat.
Difference: taste. Seriously- taste that chili. You can make it pretty inexpensively it will feed you for several days, and it is a lot better.
There is nothing wrong with the mail-order food that you get from any of those places. They charge a lot for the convenience of processing, packaging, and freezing. But ours tastes better, costs less, and will last you longer.
Learning to cook some basics in the kitchen not only provides long-term weight loss, because you can make this at anytime- but puts your health into your own hands.
So remember, weight loss doesn't happen in the post office- it happens in your kitchen.

About Dr. Terry Simpson
Dr. Terry Simpson received his undergraduate and graduate degrees from the University of Chicago where he spent several years in the Kovler Viral Oncology laboratories doing genetic engineering. He found he liked people more than petri dishes, and went to medical school. Dr. Simpson, a weight loss surgeon is an advocate of culinary medicine. The first surgeon to become certified in Culinary Medicine, he believes teaching people to improve their health through their food and in their kitchen. On the other side of the world, he has been a leading advocate of changing health care to make it more "relationship based," and his efforts awarded his team the Malcolm Baldrige award for healthcare in 2011 for the NUKA system of care in Alaska and in 2013 Dr Simpson won the National Indian Health Board Area Impact Award. A frequent contributor to media outlets discussing health related topics and advances in medicine, he is also a proud dad, husband, author, cook, and surgeon "in that order." For media inquiries, please visit www.terrysimpson.com.
Share this article on social media!