The Food and Drug Administration warned consumers  that six different weight loss supplements contain Meridia (sibutramine) a drug the FDA pulled from the market in 2010 because of an increased risk of heart attacks and strokes. Since 2012, the FDA has found over 100 weight loss supplements containing dangerous drugs.
Supplements and vitamins do not have to undergo testing prior to being released to the public. However, a number of supplements have been found to contain dangerous medications, and after people develop troubles or a complaint is filed, they are tested.  We have advocated that the Congressional Act that allowed supplements to bypass testing be revoked.
There is no easy solution to weight loss. There isn't a hidden ingredient, or tea, or coffee, or pill that will magically change what you eat. If you want something to block fat- use your brain and don't eat fat. If you want something to block sugar, your brain works where nothing else will.
Mix Fruit Slimming
The FDA advised against this product because it contained Meridia, removed from the market in 2010 because of increased risk of high blood pressure, strokes, and heart disease. It also contains phenolphthalein, which has been associated with increased risk of cancer. This drug is sold throughout the US and on-line.
Lingzhi Cleansed Slim Tea
Also contains Meridia. This is sold to "Speed up decomposing neutral fat- Repress sugar absorbing." It had previously been sold on Amazon, but as of this morning Amazon has removed it from their page. In one site the disclaimer that "Not intended to diagnose, treat, cure or prevent any disease. It has not been evaluated by the Food and Drug Administration." – it has now. This drug needs to be avoided.
24 Ince
Sold online and advertised as "useful for health management such as weight control, reduces glucose level in our blood, reduce fat and cholesterol level." Mostly sold through Asian shops.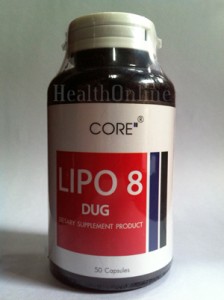 Lipo 8
Also sold online as either a pill or a coffee and said to be made from  a white kidney bean extract to "eliminate fat before it gets absorbed."
Other drugs that the FDA warned about include: Sliming (sic) Diet by Pretty White, Trim-Fast Slimming Softgel.
Public Notifications

About Dr. Terry Simpson
Dr. Terry Simpson received his undergraduate and graduate degrees from the University of Chicago where he spent several years in the Kovler Viral Oncology laboratories doing genetic engineering. He found he liked people more than petri dishes, and went to medical school. Dr. Simpson, a weight loss surgeon is an advocate of culinary medicine. The first surgeon to become certified in Culinary Medicine, he believes teaching people to improve their health through their food and in their kitchen. On the other side of the world, he has been a leading advocate of changing health care to make it more "relationship based," and his efforts awarded his team the Malcolm Baldrige award for healthcare in 2011 for the NUKA system of care in Alaska and in 2013 Dr Simpson won the National Indian Health Board Area Impact Award. A frequent contributor to media outlets discussing health related topics and advances in medicine, he is also a proud dad, husband, author, cook, and surgeon "in that order." For media inquiries, please visit www.terrysimpson.com.
Share this article on social media!