As I sit in the land of the midnight sun having my second cup of coffee I see in the headlines that drinking four cups of coffee decreases the risk of developing melanoma, the most deadly form of skin cancer. What is even better is that this happens with caffeinated coffee, and not the uncaffeinated coffees (another reason to ask- what is the point?).
The result of this study were predicted from work that had been done with mice (and it makes you wonder, are we more mice than men?). The reasons are multiple: first coffee does contain anti-cancer properties in the phenols and even caffeine. Caffeine works to protect skin cells against the damage that UV radiation does (think of coffee as a weak sunscreen). The roasting of coffee releases various compounds including some vitamins, pro-vitamins that are known to protect mice from developing melanoma. Based on that early work it was predicted that coffee might have an effect so they checked the records of 447,000 people who had enrolled in the National Institute of Health-AARP study.  Scientists had access to their medical records, and they filled out a food questionnaire.
While most people cannot remember what they ate, coffee is something that most people can tell you how much they drink.  Think about it-  most people can't tell you what they had last Wednesday for dinner (steak – medium rare, cooked sous vide with 8 ounces of green beans in a mustard sauce) – but most can tell you how much coffee they drink (never enough on Mondays).  To enroll in this study, they 447,000 people had given access to their medical records. The statistical magicians removed other factors such as smoking, family history – and even the average July sunlight Ultraviolet where they lived (if I am in Phoenix in July I am not outside).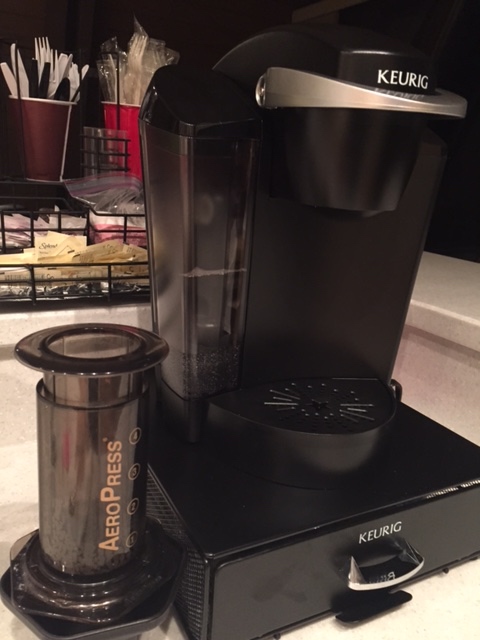 With that happy thought, I am enjoying an Aeropress cup made with freshly roasted Peet's Major Dickason's beans.  To compare we have a new Keurig machine that was supplied by some friends (Peet's French Roast).
The choice is quite easy to make- Aeropress makes a smoother coffee, with more coffee flavor, and depth. It is smoother, less bitter.  The flavors of the coffee come through.
The preparation for Keurig is much easier – and in a morning where you are trying to get over the flight between Phoenix and Anchorage, it seems easier to pop in a K-cup and go. The extra steps of making an Aeropress cup are worth it. But for those with just a need for coffee, Keurig will do just fine.
But two cups in today – its a good start. You can never be too careful. I will have another two cups later.  All the while protecting against melanoma that might hit me from the fluorescent lights ever present in the board rooms  today.

About Dr. Terry Simpson
Dr. Terry Simpson received his undergraduate and graduate degrees from the University of Chicago where he spent several years in the Kovler Viral Oncology laboratories doing genetic engineering. He found he liked people more than petri dishes, and went to medical school. Dr. Simpson, a weight loss surgeon is an advocate of culinary medicine. The first surgeon to become certified in Culinary Medicine, he believes teaching people to improve their health through their food and in their kitchen. On the other side of the world, he has been a leading advocate of changing health care to make it more "relationship based," and his efforts awarded his team the Malcolm Baldrige award for healthcare in 2011 for the NUKA system of care in Alaska and in 2013 Dr Simpson won the National Indian Health Board Area Impact Award. A frequent contributor to media outlets discussing health related topics and advances in medicine, he is also a proud dad, husband, author, cook, and surgeon "in that order." For media inquiries, please visit www.terrysimpson.com.
Share this article on social media!