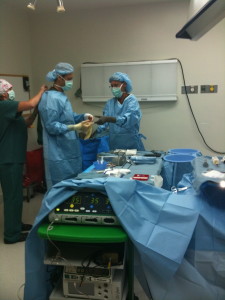 I was driving along when someone from the other side moved into my lane. I saw him and began to move into the other lane- not quite fast enough, as my mirror was clipped. He looked up in horror from his cell phone as he passed me.
Two weeks later I was turning on a green arrow, the second car through the lane. I was watching a fellow on a wheelchair who looked like he might go through the intersection. Then my wife gasped as some young kid sped through the intersection.  As I hit the side of his car I noticed he was looking up from his cell phone.
Distraction while driving – we understand that. Do you want your surgeon distracted while he is operating on you?
Many hospitals ban cell phone use in the operating room. As a surgeon, I ban them. If my assistant, or the nurses, or the anesthesiologist have cell phones, I politely tell them to put them away, turn them off, until the case is finished. In fact, I tell the staff to disconnect the telephone going into the operating room so I don't hear the ring. If we need to call out we can, but no one needs to call in.
That is not a common practice, I have discovered. Imagine when you find out the anesthesiologist you had do your surgery posted a Facebook update while you were under anesthesia?
You can't text and drive. You can't operate and be distracted. You don't want your operating room team doing that.
Cell Phone Cameras and Privacy
Photographs of medical images, with patient's consent, are an important part of medical education. Textbooks are full of them. My interest in medicine came as a child looking at old pathology textbooks that my family physician gave me.
But there is another intrusive side to that. Recently the football player who lost some fingers had a part of his medical record tweeted out. ESPN will pay a fine for that- but I think they should pay more than a fine- I think they should be sanctioned far more – it is a violation not just of the player's privacy, but a declaration that they can do anything for a story, and will violate the law.
I have taken photos of patient's insides to show patients what we saw – many have an interest in it, and like seeing it. Then the photo has to be deleted – or I need some permission to keep it, or make it anonymous so I can show it to colleagues.
New Technology Does Not Change Human Behavior
We have an ethical obligation to the privacy of our patients. We have an ethical obligation to provide them with distraction free surgery. This is not a gray area. There is no debate. If I have surgery I want to know that the surgeon has a "distraction-free" policy. Because I know- no matter how routine the operation, no matter how many times it is done – something can always surprise you, and if it does, you want the full attention of your entire operating room team.
Humans cannot multi-task. Surgeons certain cannot. You see- we act as if we are babies in the operating room -and need connection to our technology. We are not. We need connection to the patient, and the undivided attention of our team.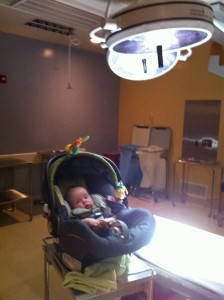 About Dr. Terry Simpson
Dr. Terry Simpson received his undergraduate and graduate degrees from the University of Chicago where he spent several years in the Kovler Viral Oncology laboratories doing genetic engineering. He found he liked people more than petri dishes, and went to medical school. Dr. Simpson, a weight loss surgeon is an advocate of culinary medicine. The first surgeon to become certified in Culinary Medicine, he believes teaching people to improve their health through their food and in their kitchen. On the other side of the world, he has been a leading advocate of changing health care to make it more "relationship based," and his efforts awarded his team the Malcolm Baldrige award for healthcare in 2011 for the NUKA system of care in Alaska and in 2013 Dr Simpson won the National Indian Health Board Area Impact Award. A frequent contributor to media outlets discussing health related topics and advances in medicine, he is also a proud dad, husband, author, cook, and surgeon "in that order." For media inquiries, please visit www.terrysimpson.com.
Share this article on social media!