Bug Dope: What Works – What Doesn't
In Alaska that mosquitos harvest more blood from a person than the blood bank. But Alaska isn't the only place, this is mosquito season. If the headline about Zika Virus didn't catch your attention, perhaps the bug bite did. Mosquitos, and other pests are back and with them come some nasty infections .
To help, I've spent the last twenty years testing mosquito repellents in Alaska, Oregon, Washington, Mexico,  Norway, and Arizona. There are different mosquitos in each of those places, so my study  was always: "which product works better than another, and which product is useless". But testing in different countries or states often meant I would have to buy stuff locally, or get product that can transport easily when I travel. More than mosquitos,  on the East Coast where my concern is the Deer Tick and lyme disease.
Five years ago my son, JJ was born, and then I had to find repellents that would protect him and not cause harm. I investigated every "natural" thing and synthesized product out there.   I know natural isn't better, but I was looking for anything that was safe.  In JJ's first three months (he was born in July) we protected him by his clothing and mosquito nets. That is how you should protect your infant. There is nothing that any doctor would consider safe for any child under three months. So get some mosquito netting, and keep them away from those hungry little creatures.
How I Did It
How did I do it?  In the last twenty years I have kept track of every bite, or every time I go out and don't get a bite when my friends do.  I have kept careful journals about what I wore, when I last applied it, and how many bites I got or didn't get.  I would test items for several days at a time- first it saved on what I brought – but second there was no residual of other repellents on the skin.
As a result – here are my recommendations – as well as the products to avoid.  To be careful: this is what works for me.  There are clearly some people who never have an issue with bugs, and for you folks – great. I am a bug magnet. If I am not in testing mode and wander outside for a cigar a mosquito from twenty miles away will find me. I get plenty of vitamin B in my diet, I love garlic and rosemary. Other attractants include people who drink beer – and while I have an appreciation for fine craft beers, if I have half a glass every four months then it was a lot.
It was common during my testing times that if my friends were bothered and I was not, that they would ask for some of my "insect dope," and I would freely give it to them.
So my testing is, at best, anecdotal – but fairly complete. What is interesting is other consumer testing results are remarkably similar to my results. So here is the science behind some of the repellents and my personal experience: the repellents  I use. But what is probably more important – there are a bunch of products out there that are  just useless.
Three Important Warnings: 
Out of stock repellents. Last year Arizona had a terrible season with mosquitos. You could not buy repellent in stores, or on-line. Bug zappers were not to be found in Phoenix, and people suffered. So- if you find one of these insect repellents that appeal to you, get the bug dope now, and test it. If it works for you and doesn't cause distress- buy enough for the season so you don't have to worry.
All repellents have side effects – and those are individual. My method of testing myself was fairly simple- some products I knew since childhood so I didn't worry about them. But some were new. So I would take a bit of that product, put it on a band-aide and put it on my skin. If I had no reaction to it, then I would use it – but if I had any reaction to it I would never use it. Everyone is different.
Natural does not mean "non-toxic." Some of my worst reactions to eyes and skin were with these products. All chemicals have a range of toxicity and efficacy. This is the balance: you want the product to work so you avoid the discomfort and potential illness that the bugs carry – but you don't want to get a rash, or be irritated by the product. So when someone says "this is natural and so it is good and won't harm you," they are naive and ill-informed. My approach to this is selfish – I wanted to find out a wide range of products that work for me, and avoid those that don't work and cause distress.  So – every product – natural or synthetic has three places: not effective dose — effective dose — toxic dose. I count effective as something that works for four hours (not swimming). Some products – and usually the "natural ones" fell into a category of both not effective (lasting only an hour) and toxic (giving me some eye irritation as they sweat would carry it into my eyes).
Arizona and Zika Mosquito Warning
Maricopa County Department of Public Health (MCDPH) has confirmed the mosquito that carries Zika Virus is in the valley. It is only a matter of time before this mosquito, that is a native of South America and Africa take hold. The only protection we have against Zika is mosquito control as well as appropriate protection.
While native mosquitos tend to bite people at dawn and dusk, these pesky creatures bite throughout the day and night.
In addition to Zika, West Nile Virus has affected more people this year. There is also concern about Dengue Fever (recently in Florida).
There were 108 human cases of WNV reported statewide in 2014, 93 of which were in Maricopa County.
DEET – it works, but you don't need much
DEET ( N, N-diethyl-meta-toluamide) works. In  2002 study the New England Journal of Medicine reported about the efficacy of DEET at different concentrations:
5-10 percent provided protection for one to two hours – which I would classify as ineffective.
20 percent provided  four to five hours – which is effective.
Above 50 percent, you get minimal improvement – not enough to be considered terribly worth the exposure.
"Slow-release" formulas can extend protection time to eight hours or more. But I prefer re-application at four hours just to be certain, and if I am inside I don't need the exposure (unless those little buggers follow me in and that can be an issue in some places I have stayed).
Do not use this on infants of 3 months old or less.
Higher concentrations of DEET causes ashes, disorientation, and seizures.
Some don't like DEET, but if used properly it will  provide great protection. The problem I have with DEET is that it kind of smells bad. The second problem I had with DEET was that my eyeglasses and golf grips seemed to get corroded a bit. Since I like to play golf in Alaska, and use reading glasses – this bothered me.
I like using OFF Deep Woods – it is what I buy for my family, and when we use it there is no issue with those little pests. It contains 25% DEET and works for eight hours at a time against mosquitos. If you wonder about Deer ticks (those little creatures that carry lyme disease) it works against them also, but for about 4.5 hours (enough for a very slow round of golf). This is great for playing golf with my buddies on the East Coast – where one occasionally needs to look in the bushes for a golf ball.
I like to travel with the moist wipes, because you can put them on a carry-on and not have to worry about TSA regulations. Deet Repel 100 Insect Repellent, 4 oz. Pump Spray
Picaridin Formulas – One of My Favorites
This is a synthesized product that has come onto the market lately. It has less side effects than DEET, and provides great protection. This is a "natural-synthetic" compound. For those who think this is an important distinction. It is based on the compound found from the genus Piper, the plant that produces pepper (don't use pepper on your skin – seriously). Picaridin  was approved for sale in the United States in 2005.
Picaridin at a concentration of 7 percent is equivalent to about 10 percent DEET (one to two hours of protection) which I consider to be ineffective.
Picaridin at a 20 percent concentration offers the same protection (four to five hours) as an equivalent DEET concentration – which in my mind is effective.
Perhaps because it was called "Fisherman's Formula" I like the product – but this is the one that I use when I am in Alaska. It works as well as DEET for me, but doesn't have the smell. I realize their marketing was great at this- and I doubt any fishermen were tested – but this fisherman was, and I like it. I've used this for four hours at a time without any issue at all. Picaridin Insect Repellent from Sawyer Products, 4-Ounce Lotion
Oil of Lemon Eucalyptus – Works Well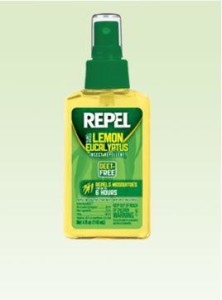 This is another product that is synthesized, but based on something "natural." Again, I don't make that distinction, but for some of you this seems to be important. But the chemical name: para-Menthane-3,8-diol . While technically plant-based, this is a chemically synthesized version of oil of lemon eucalyptus. This is not an essential oil.  Although many people who peddle essential "pure" oil of lemon eucalyptus – will tell you their product is better because it is natural. Ok- I like something where I know the dose, so I can compare its effectiveness to toxicity.
Repel is one that I like. The problem I had with it was some irritation to the eyes as I sweat. For kids- don't use it under the age of 3 years old, according to the manufacturer.
It worked for the four hours tested, and even when I forgot, worked up to eight hours.  I prefer my lemon on salmon and not on my skin, but this wasn't a bad choice. Repel Lemon Eucalyptus Natural Insect Repellent, 4-Ounce Pump Spray
What Doesn't Work
Wrist Bands
Boy do those look appealing. Go to Amazon and look up insect repellents and these things come up first in search results.  They say that they are "clinically proven."  I've tried them – they are worthless. So in my clinical testing – they receive a "FAIL." I have tried both the Coleman Naturals Insect Repellent Snap Band (containing citronella oil) or the Super Band Wristband (containing geraniol oil) – and after putting them on I was getting bites. I had to take them off and apply something else.
Then I noticed that  the Federal Trade Commission charged  Viatek, a brand that I didn't test, with deceptive marketing of its Mosquito Shield Bands, which the FTC says contain mint oil.
Essential Oils
In spite of countless testimonials for "natural products" some of the essential oils that are "natural" based ( citronella, lemongrass, and rosemary – which I love to use for my lamb) they just don't work that well. Maybe for an hour, and an hour means ineffective. Of course, if you read about them you will see things like  "proven effective" or "repels mosquitoes for hours." The problem is – in my testing, and comparing with friends who wore them- after one hour you are just bait for some creature. 
Some sell the "pure oil" of the lemon eucalyptus – but it is hard to know the concentration of it. So I prefer buying the less expensive and known dose of the Repel above. If you think essential oils are your thing – fine.
One of my friends sent her kids off to camp and said it worked well for them for hours – but there is always the "bigger target" effect. If you have a few mosquitos they go for anyone who doesn't have the repellent. But when you test in Alaska or Norway where mosquitos swarm, you find out – after an hour, that if the repellent doesn't work you are engulfed. In those places, in spite of everyone's secret formula – after an hour- fail.

About Dr. Terry Simpson
Dr. Terry Simpson received his undergraduate and graduate degrees from the University of Chicago where he spent several years in the Kovler Viral Oncology laboratories doing genetic engineering. He found he liked people more than petri dishes, and went to medical school. Dr. Simpson, a weight loss surgeon is an advocate of culinary medicine. The first surgeon to become certified in Culinary Medicine, he believes teaching people to improve their health through their food and in their kitchen. On the other side of the world, he has been a leading advocate of changing health care to make it more "relationship based," and his efforts awarded his team the Malcolm Baldrige award for healthcare in 2011 for the NUKA system of care in Alaska and in 2013 Dr Simpson won the National Indian Health Board Area Impact Award. A frequent contributor to media outlets discussing health related topics and advances in medicine, he is also a proud dad, husband, author, cook, and surgeon "in that order." For media inquiries, please visit www.terrysimpson.com.
Share this article on social media!