When I exercise my ounce of sovereignty and vote for President it will be for someone who respects science and not anecdote. The recent GOP debate showed the holes in the thinking of candidates who apparently think "doctors lie," or who pander to the anti-vaccine crowd.
There is NO causation between vaccines and autism. Dr. Carson misspoke when he said there is no correlation – there is correlation, there is no causation. The timing of vaccinations, about age two years,  is the same age when most parents notice autism in their children. Careful examination of videos of the children before then will show autism was present before the vaccination. There are many papers showing that vaccination is safe and does not cause autism.
Donald Trump noted a correlation with an employee – in a debate tactic worthy of any high school, but not worthy of science. I don't mind if a president changes his/her mind, but I do want them to know the difference between correlation and causation.
Freedom to Spread Out Vaccines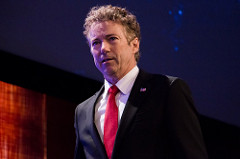 As much as the GOP candidates espouse "freedom" like Rand Paul, to allow people to "spread out vaccines," Rand Paul is dead wrong. There is clear precedence for the government to protect public health. Vaccinations are one of them.
California's passing of legislation to eliminate the "opt out" for vaccines came about after over 200 people contracted measles at Disney. In 2000 measles were listed as being eradicated, and yet this year we had a measles outbreak started in Disney and ending with the first measles death in years. Why, because prior to that, California allowed parents to "opt out" of having kids vaccinated. Now California is coming up to the standards of Mississippi, where 99% of the kids are vaccinated.
Other examples of government functions for public health. The use of quarantines, screening of people coming in from foreign countries for Ebola, Avian flu, and other diseases are a proper use of government enforcing for the public good. Apparently Rand Paul, an ophthalmologist, does not understand that.
The danger of "spreading out" vaccines means you leave children unprotected against agents, but not only those children – you also provide exposure to adults with immune disorders, the elderly, and other people who are suspectiable to infectious disease (like patients with cancer on chemotherapy).
Here is a little quiz for you. How many things are children exposed to every day that they develop antibodies to? Hundreds, thousands? In fact, the more and earlier kids are exposed to things, the better their long-term health is. Kids on farms, exposed to lots of stuff, have less allergies, less asthma, and less auto-immune diseases. Kids who have peanuts earlier have less peanut allergies. Vaccinations early are safe, effective, and good.
BELOW IS A TWEET BY TRUMP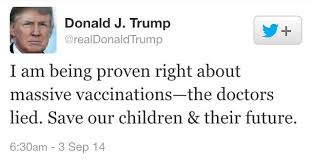 We doctors don't lie, Mr. Trump. We have the education, you say you want smart guys – why not listen to the smart guys.

About Dr. Terry Simpson
Dr. Terry Simpson received his undergraduate and graduate degrees from the University of Chicago where he spent several years in the Kovler Viral Oncology laboratories doing genetic engineering. He found he liked people more than petri dishes, and went to medical school. Dr. Simpson, a weight loss surgeon is an advocate of culinary medicine. The first surgeon to become certified in Culinary Medicine, he believes teaching people to improve their health through their food and in their kitchen. On the other side of the world, he has been a leading advocate of changing health care to make it more "relationship based," and his efforts awarded his team the Malcolm Baldrige award for healthcare in 2011 for the NUKA system of care in Alaska and in 2013 Dr Simpson won the National Indian Health Board Area Impact Award. A frequent contributor to media outlets discussing health related topics and advances in medicine, he is also a proud dad, husband, author, cook, and surgeon "in that order." For media inquiries, please visit www.terrysimpson.com.
Share this article on social media!