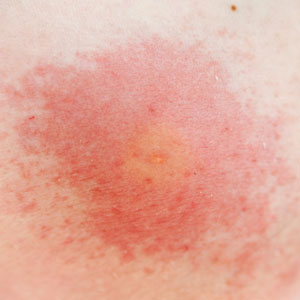 When the Apple Watch version two comes out the most important fix they need is to get rid of the rash. While others say they need to fix the battery life (deplorable) and beef up the apps (great) the major fix is a health fix – there are persistent problems with a rash. I know- because after having the watch for a year my skin began to become irritated.  So I moved the watch to the other wrist – shortly after that skin was irritated. That tells me several things:
A compound in the watch (probably nickel) began a sensitization of my skin and every time I will wear it this will become worse.
It is not the band (most of us have had watch bands that don't give us problems).
It is not some reaction with your skin sweat – like a battery – that would be immediate and universal.
It means they probably need to change to an all steel watch or a plastic backing that is inert.
Fitbit had this problem with one of their products and worked hard to recall it and to fix the problem. Apple is silent other than saying things like "don't wear it in the shower – wash the skin under the watch – wash the watch." Instructions, by the way – that any person who wears watches would know are nonsense.
As much as I love all things Apple – I have put my watch back in its box and dusted off the Pebble Steel.  I discovered a few things I like about it: I don't have to charge it every night.  I can leave it on my wrist all the time. It is easy to read – and it looks nice.
The future of wearables is big. The ability to monitor steps, calories, work-outs, heart rate are all what the public clamors for. If Apple doesn't solve this there are other watches  I still miss the Apple Watch — perhaps if I keep it in the old box for a few years I can sell it.

About Dr. Terry Simpson
Dr. Terry Simpson received his undergraduate and graduate degrees from the University of Chicago where he spent several years in the Kovler Viral Oncology laboratories doing genetic engineering. He found he liked people more than petri dishes, and went to medical school. Dr. Simpson, a weight loss surgeon is an advocate of culinary medicine. The first surgeon to become certified in Culinary Medicine, he believes teaching people to improve their health through their food and in their kitchen. On the other side of the world, he has been a leading advocate of changing health care to make it more "relationship based," and his efforts awarded his team the Malcolm Baldrige award for healthcare in 2011 for the NUKA system of care in Alaska and in 2013 Dr Simpson won the National Indian Health Board Area Impact Award. A frequent contributor to media outlets discussing health related topics and advances in medicine, he is also a proud dad, husband, author, cook, and surgeon "in that order." For media inquiries, please visit www.terrysimpson.com.
Share this article on social media!