There is a mistaken view that being a doctor means we will get faster service in an emergency room.
I spent the day in the emergency room, and discovered a few things. First, my mom is ok – she fell and had a wrist break.
While my mom was seen quickly by the doctor, she ended up spending eight hours in the ER when she should have only spent four. The reason was primarily from the adherence to computerized medical records.
The doctors were responsive and pleasant, and saw her quickly. One of the metrics that guide hospitals are the time that a patient will wait until they see a doctor. This isn't a great model, because seeing a patient quickly is only a part of the ER stay. In Phoenix many hospital emergency rooms brag about the time it takes to see a physician, some will post it on boards, some will provide an app for your phone.  In my mom's case it wasn't them seeing her, it was once she was treated it took an overly long time to discharge her.
The nurse who tended to my mother was one of those people who found her calling in life because she truly wanted to be there to help and comfort. But before the end of her shift she spent the last two hours in front of a computer screen charting her encounters from the day. That means two hours when she didn't have "face time" with the patients, when she could have facilitated the discharge. But charting is required for three reasons: it provides the metrics that allow the patient's insurance to be billed, it provides a record of the encounter for future provides, and it provides a record for medical-legal reasons. The part that we physicians need to see from a patient encounter is often less than one tenth of what is recorded – the insurance company needs a lot of things filled out, and there is never enough documentation if a lawyer sues.
I was there for the last seven hours of my mom's time. I carefully watched the interactions and noted that the ER doctor spent more time charting than seeing any patient. When there were truly bad things happening she was quick to see the patients, take care of them, then back to the computer to chart what was done.
Filling the mandate, my mom was seen, not only by the ER physician, and the orthopedic residents, it took three hours after the doctor released my mom before everything came together to get her out of there. Discharge papers are volumes – given to my mom, who is legally blind. They are somewhat useful – but not practical. But by giving them to her (they had to wait until they printed them) they checked off the box of "patient education." I took them and assured them that I would help my mom negotiate what she needed.
Technology can improve the ER experience: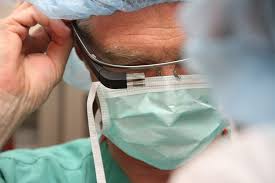 When the orthopedic visit was done he recommended my mom get a sling and she needed a follow up appointment. My mom got her sling at 6 pm after he had mentioned it at 2 pm. It was me asking one of the ER technicians about it, otherwise it would not have happened. Computerized ability to immediately click to have it brought to he would have saved some time. The orthopedic residency is connected with the Core Institute – and we got a paper with a phone number and address. It could be just as easy to ask – when, and he could have instantly made an appointment.
Google glass was famous for the idea of recording the encounter on video. Had this technology been used it would have solved the "record" problem because all encounters are not on media and can be examined. Some companies then provide a scribe to translate that into the form that the insurance companies need to bill.
Some of the issues my mom had have been taken care of by "scribes" whose job is to translate what the physician does onto the medical record so that the doctor can have more face time with the patient. I am not certain if these scribes are available to the nurses also. Some of the emergency rooms use these to facilitate the interaction and bridge the gap between the computer and patient. A recording could be made of the discharge instructions and then emailed to the patient (under encryption) and any family member. 
I would go back to Banner Good Samaritan in a second – because of the care. The nurses and physicians were outstanding. It is the hospital where my son was born. There was one real positive- I was able to spend 8 hours with my 88 year old mother. My mom was lucid, pleasant, and so happy I was there.
In the last three months my parents have required ER visits three times. The experience is the same- they are seen quickly and discharged much later than they should. What the hospitals don't realize is that when a person has to go to an ER it is a great inconvenience to them, and spending more time than needed in an ER provides more time away from home and potential for medical mistakes. While my mom spent 3 more hours after the physician's discharge – the waiting room was over flowing- the inefficiency kept other people from being seen or taken care of. We can do better.

About Dr. Terry Simpson
Dr. Terry Simpson received his undergraduate and graduate degrees from the University of Chicago where he spent several years in the Kovler Viral Oncology laboratories doing genetic engineering. He found he liked people more than petri dishes, and went to medical school. Dr. Simpson, a weight loss surgeon is an advocate of culinary medicine. The first surgeon to become certified in Culinary Medicine, he believes teaching people to improve their health through their food and in their kitchen. On the other side of the world, he has been a leading advocate of changing health care to make it more "relationship based," and his efforts awarded his team the Malcolm Baldrige award for healthcare in 2011 for the NUKA system of care in Alaska and in 2013 Dr Simpson won the National Indian Health Board Area Impact Award. A frequent contributor to media outlets discussing health related topics and advances in medicine, he is also a proud dad, husband, author, cook, and surgeon "in that order." For media inquiries, please visit www.terrysimpson.com.
Share this article on social media!