By Terry Simpson MD FACS, Weight Loss Surgeon, Culinary Medicine Expert, Lover of Food & Wine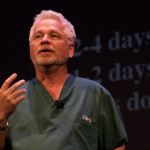 Over half of modern medicines come from food. Conversely, we still use food as medicine. Is that a good thing? Dr. Terry Simpson is not only a renown weight loss surgeon, he's also a certified Culinary Medicine Specialist. That means he spends more time teaching patients to cook than he does operating on them. Culinary Medicine separates out the legitimate science and medicine of food from those who would seek to practice medicine without a license. Where today's nutritional advice is the realm of hucksters, Dr. Simpson brings it back to the realm of science.
To listen to the podcast, simply click Play. 
For your  favorite podcast app:

Recent Articles